Canada is a popular place for relocation with over a million immigrants coming to settle here over the past decade. Luckily, Canada has wonderful programs to help new residents get started in their new home, such as ScotiaBank's StartRight Program.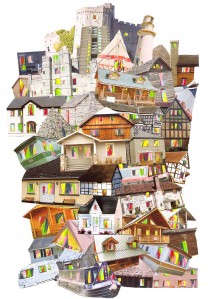 OttawaMove has put together some information on different types of houses found in Canada, as well as the two forms of ownership:
TYPES OF HOMES:
Single Family – A single family home is a typical one to two storey detached property. The single storey homes are referred to as bungalows. Single family homes usually come equipped with a basement.
Duplex – A duplex is a semi-detached property. Usually, a duplex is comprised of two separate living quarters with a common wall or walls. Each quarter has a fully functional kitchen, living room, bathroom and bedrooms, but the basement, for example, may be the common shared point for both properties.
Fourplex – A fourplex is basically four apartments that are attached together in one block. Typically this will be comprised of two on the lower level and two on the upper level.
Townhouse – Townhouses are popular because they have the qualities of a single family home, but also of an apartment, or flat. These are mostly likely two-storey attached homes that sit in a row.
TYPES OF OWNERSHIP:
Freehold – A freehold has the same rules in many major countries, which means that the house and the lot that it sits on is owned outright, depending on terms and clauses that will be in the freehold agreement.
Condominium – This type of ownership is a little different as the purchaser does not only own the unit. What extends beyond the actual condo is also partially owned by the tenant. Areas like the swimming pool and exterior walls, or things like the lobby furniture and hallway fixtures are all part of the package.
Finding a good realtor in Ottawa is as important as understand the different options available to you. Contact seasoned real estate expert Chris Coveny at OttawaMove.com for all your moving questions and home searching needs.
Related Stories:
Immigrants Helping the Canadian Housing Market
ScotiaBank's StartRight Program Makes Moving to Canada Easier