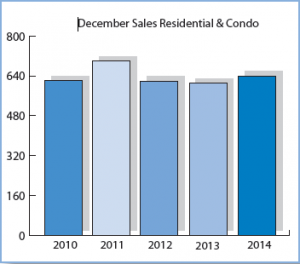 Ottawa Real Estate Board New Release – January 7, 2015
Members of the Ottawa Real Estate Board sold 640 residential properties in December through the Board's Multiple Listing Service® system, compared with 609 in December 2013, an increase of 5.1 per cent. The five-year average for December sales is 637.
The total number of homes sold through the Board's MLS® system in 2014 was 13,928, compared with 13,871 in 2013, an increase of 0.4 per cent. Residential unit sales for the year were slightly higher with a 2.4 per cent increase over 2013, while condo sales declined by 7.2 per cent compared to last year. The average residential home price, including condominiums, sold in 2014 was $361,712, an increase of 1.2 per cent over 2013.
"The listing inventory for both residential and condos trended higher all year," says new President of the Ottawa Real Estate Board, David Oikle. "Condo units for sale increased as high as 23 per cent in February and March over the previous year, but settled back down to 2013 levels by the end of December. Increased inventory levels contributed to the market favouring Buyers for much of the year."
December's sales included 144 in the condominium property class, and 496 in the residential property class. The condominium property class includes any property, regardless of style (i.e. detached, semi-detached, apartment, townhouse, etc.), which is registered as a condominium, as well as properties which are co-operatives, life leases and timeshares. The residential property class includes all other residential properties.
The average sale price of residential properties, including condominiums, sold in December in the Ottawa area was $345,449, an increase of 1.6 per cent over December 2013. The average sale price for a condominium-class property was $270,236, an increase of 10.1 per cent over December 2013. The average sale price of a residential-class property was $367,286, a decrease of 0.7 per cent over December 2013. The Board cautions that average sale price information can be useful in establishing trends over time but should not be used as an indicator that specific properties have increased or decreased in value. The average sale price is calculated based on the total dollar volume of all properties sold.
"The price range with the most concentrated amount of sales for 2014 was the $300,000 to $349,999 range, with 18.8 per cent of the year's sales, followed by the $350,000 to $399,000 range, with 12.5 per cent of the year's sales, explains Oikle. "The third highest category with 11.6 per cent of the year's sales was in the $500,000 to $749.999 price range. All three of these price range property concentrations are very similar to the ranges from 2013."
In addition to residential and condominium sales, OREB members have assisted clients with renting over 2,500 properties in 2014. OREB members also assist clients with the sale of building lots, businesses, farms and recreational properties, and the leasing of commercial space.
Although home sales statistics and average sale prices are helpful tools in gauging the real estate market, be sure to give Chris a call or send him an e-mail for more detailed information on the market in your Ottawa neighbourhood. Whether you're planning to sell a townhome in Orleans or you're looking to move to one of the city's top walking districts, the Ottawa Move Team can help you find out what your current home is worth and get you started on the search for your next dream home! Whatever your real estate needs may be, contact Chris and the Ottawa Move Team today.