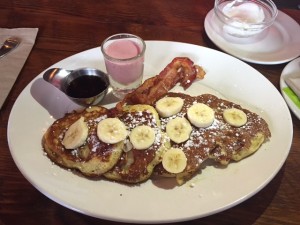 How do YOU define the new Lansdowne? As your new home, your place of work, where you gather with friends to catch up, your favourite destination for health food shopping, date night at the vip movie theatre or maybe even "uber me home from this location".
My Lansdowne Park includes summer sangria, a table side guacamole followed by steak+sushi from Joey and a new Saturday morning tradition, Local's soft and succulent banana pancakes with side of bacon.*
Want to live steps from live sporting events, a gourmet grocery store, an array of restaurants to suit any palette, a sprawling urban playground, weekend Farmer's Market, and a VIP movie theatre? Vibe and The Rideau by Minto are an opportunity to live right in the middle of all of the action. Vibe is officially sold out through the builder but the good news is that there are re-sale units available for purchase. The Rideau currently has 7 condos left for purchase, starting at $439,900 as well as 6 of their 2 storey Podium suites starting at $824,900. Both feature underground parking which allows access to the Shops at Lansdowne for those cold winter days where you don't want to head outside to gather up your provisions.
Lansdowne is a definite success and it helps that the Ottawa Fury FC and Ottawa Redblacks are winning. The carnival game day atmosphere and underground parking allows us to enjoy big city thrills for a few hours every couple weeks. Many find that trying to park your car on game day might dampen your mood before the game even starts. Rest assured, TD Place and OCTranspo have been working together to bring free shuttle busses to and from the stadium starting 2 hours before the game starts. Theses busses leave from various park and rides located around Ottawa as well as city hall.
If sporting events are not your thing, the park offers many other options, such Ottawa's very first Cineplex VIP movie theatre where you can enjoy restaurant style service in your very own extremely comfortable movie seat. «I'll take a bottle of red with the cheese board please!».  The theatre also offers parking validation.
** We will be hosting an extra Redblacks game on October 6th vs the Toronto Argonauts – the Blue Jays are bumping them from the stadium due to a potential playoff conflict so the Redblacks finish the season with 4 home games in a row. **
* If you are allergic to bananas, maple syrup, pancakes or bacon you will not enjoy this delicacy.