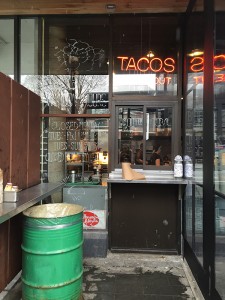 The El Camino restaurant is best known for its great contemporary Mexican food. This is a good place to meet friends and try all the tequila-based cocktails and tapas that are found in this place with a great atmosphere. On the other hand, during the weekdays, they have a taco window. YES A TACO WINDOW! Located at 380 Elgin Street, El Camino is open from noon to 2:30pm every day of the week (except Monday). The great thing about it is that the tacos are prepared quickly but, are still amazingly good and fresh.
The taco window allows you to observe the menu that is painted directly on the side window. And there is no doubt that there are tacos for anyones varying tastebuds; pork, beef, ox tongue (my favorite), lamb, fried fish and even eggplant just to name a few. All tacos are topped with a slice of avocado, hot peppers and pickled onions. But, make sure to bring cash, (no debit or credit are accepted at the window) simply go to the cashier, order the desired number of tacos to survive the rest of the workday (2 tacos are according to us the magic number). While you wait 5 to 10 minutes, a large pitcher filled with free Mexican hot chocolate is offered to appease the cold weather (since you do wait outside). This hot chocolate, touched with a little spice is delicious. Finally, the tacos are ready to take to the office and make sure everyone is jealous of the delicious smell they will sniff from your little box.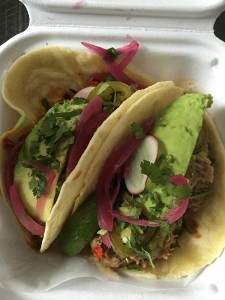 If your office is near El Camino, I strongly suggest you make the quick trip over. They are honestly the best tacos in the city. And of course, a speedy delivery that includes savoury yet healthy options are always a plus at lunch time. These small Mexican sandwiches are sure to brighten up your day! El Camino is one of our favorite places for a quick treat at lunch time, what is yours?
Le quickie à midi – El Camino
Le restaurant El Camino est surtout connu comme un excellent restaurant mexicain contemporain. C'est un bon endroit pour rencontrer ses amis et gouter aux cocktails à base de tequila et tapas qui se retrouvent dans cet espace plein d'ambiance. Par contre, pendant la semaine, ils on une fenêtre à tacos. OUI UNE FENÊTRE À TACOS! Situé au 380, rue Elgin, El Camino est ouvert de midi à 14h30 tous les jours de la semaine (sauf le lundi), il offre une fenêtre à tacos qui sont préparés rapidement tout en restant bons et frais.
La fenêtre à tacos permet d'observer le menu qui est peint directement sur la vitrine. Ils préparent des tacos à plusieurs saveurs; au porc, au bœuf, à la langue-de-bœuf (mon préféré), à l'agneau, au poisson frit, à l'aubergine pour en nommer quelques-uns. Tous les tacos sont garnis avec une tranche d'avocat, des piments forts et des oignons marinés. En s'assurant d'apporter de l'argent comptant, il suffit de se rendre à la caisse, commander le nombre de tacos voulus pour survivre le reste de la journée de travail (2 tacos sont d'après nous le nombre magique). En attendant, 5 à 10 minutes, une large cruche remplie de chocolat chaud mexicain gratuit vous est offerte afin d'apaiser le froid durant l'attente (puisque faut attendre à l'extérieur). Ce chocolat chaud, saupoudré avec un peu de piquant est délicieux.   Finalement, les tacos sont prêts à emporter au bureau afin de rendre jaloux tous ceux et celles qui ont la chance de renifler les odeurs savoureuses qui ressortent de votre petite boite.
Si votre bureau se trouve près du El Camino, je vous suggère fortement de vous y rendre afin de déguster les meilleurs tacos de la ville. La rapidité de la cuisson, la saveur typiquement savoureuse et la fraicheur de ces petits sandwiches mexicains sont un excellent diner durant les jours de semaine. El Camino est l'un de nos endroits préférés pour un délice rapide à l'heure du diner, quel est le vôtre ?