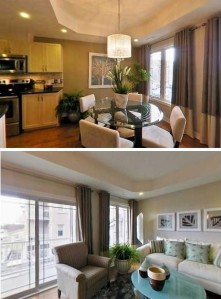 As living "green" continues to gain popularity, more affordable choices of sustainable housing are beginning to enter the market. One such development is the new project from Minto Communities. Stonefield Flats aims to be Canada's largest Leadership and Energy Environmental Design (LEED) multi-family compound. The series of 10 buildings, housing 16 condos each, are being constructed in Chapman Mills near the intersection of Prince of Wales Drive and Woodroffe Avenue.
Stonefield Flats currently includes two designs: the Alto II at 1,038 square feet, and the Brio II at 1,095 square feet. Both condos are equipped with two bedrooms, two bathrooms and a balcony. One of the best parts about these residences is the price tag. With condos starting at just over $171,000, Minto has cleverly placed itself within the first-time homebuyer budget.
Besides their affordability, the condos' main selling point is their ability to drastically reduce the cost of energy. Energy Star windows, a state-of-the-art insulation system, and green appliances all contribute towards saving energy. Andrew Pride, a vice-president of the Minto Green Team, says that features such as these can take about $80 a month off utility bills. "Green homes use less energy, water and natural resources, create less waste, and are more durable and comfortable for occupants," he adds.
Stonefield Flats promises to be a cutting-edge, responsible and stylish complex. A truly unique feature about the condos is the "all off" switch located by the front door. You can switch off all the lights with the flick of this switch; a genuinely distinctive green element, fitting for the new community.
Visit the Features Properties page at OttawaMove.com to find a home in the Ottawa-area. If you are seeking more sustainable and eco-friendly accommodations, contact Chris Coveny via the OttawaMove.com site, or via Chris Coveny's email.