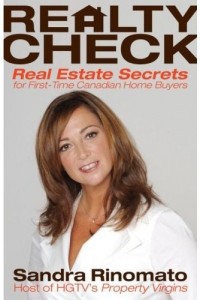 The Internet is a wonderful, in-depth source of information for first time home buyers. In fact, a study by the National Association of Realtors revealed that 79% of people flock to the Web to house-hunt. However, if you are one of those people who find it unappealing to laboriously navigate the search engines for specific answers, try learning the old-fashioned way: read a book.
Below is a short list of books that should pique the interest of any first time home buyer. Written by industry experts and experienced real estate professionals, these books cover a wide variety of real estate topics.
Buying and Selling a Home For Canadians For Dummies
Tony Ioannou and Heather Ball
Not that we are implying first time home buyers are dense, but the "…For Dummies" collection really prides itself on outlining, in detail, each topic it delves into. The latest edition summarizes financing, negotiating, paperwork and basic real estate issues. This book will serve as a great reference throughout the home buying process.
100 Questions Every First-Time Home Buyer Should Ask
By Ilyce R. Glink
This is a super book that can be used as a general overview of the home buying process. It is not so much a "tips and tricks" book at it is educational. The best part of the book is that it covers "real estate lingo" in an easy-to-read format. One of the hardest parts of jumping into this experience is understanding the vernacular, and this book does a great job covering just that.
Reality Check: Real Estate Secrets for First Time Canadian Home Buyers
By Sandra Rinomato
This book, written by HGTV personality / realtor Sandra Rinomato, is geared towards first time home buyers and educates on the basis that your home is an investment vehicle. It also covers smarter ways to use the Internet to find the properties that are right for you, and many time and money saving tips that people not exposed to the home buying process would not consider.
Buying a Home in Canada: A Survival Handbook
By Sally Jennings
This book directly addresses the fears and anxiety that first time home buyers experience when searching for their dream house. The insider tips, checklists and disaster-proof information are extremely useful sections of the book. It is organized in a very methodical way, and the reader is not overwhelmed by the wealth of information the author doles out. This is a good book to refer back to during the home-buying process.
If you want to skip the reading, or have already done so… contact Chris Coveny at OttawmMove.com to find out how he can help put you into your first home.