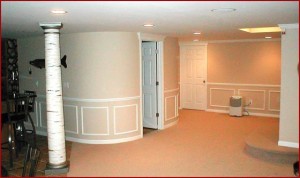 A new trend hitting new Ottawa-area homes is the "curve." Curved walls, barrelled ceilings, and curved doors are among the new accents that home builders are using to fuel interest in their houses and floorplans.
"We're very happy with the way the curved-wall features turned out," says Bill Land, owner of Edmonton-based Land-Kor Homes. They have just released their 8,000 square foot model home north of Edmonton which is chocked full of curved elements. The $3.5 million house is comprised of six bedrooms, seven bathrooms, and a home theatre. It also includes a wine cellar and library that features an impressive barrelled ceiling.
"It's something a little different; that's what we're always looking for. It's different than what one would typically do on a ceiling," adds Land, who also enjoys other curved areas in the house including curved arches and a coffered living room ceiling.
Curved Walls, the contracting company responsible for the curved effects in Land's home, specializes in curved features. General manager, Chris Sorge says, "It's a great product for people who like to build outside the box. The most common thing we hear is 'We didn't know you could do this.'"
Sorge adds, "All curved (drywall) products until recently required studding and framing of some kind. With our modular system, it's completely frameless."
Typical curved walls involve placing studs three inches apart, along with two layers of drywall that is at least one-quarter of an inch thick. The labour intensive part comes after this, when a significant amount of taping is needed to give the wall a smooth finish. Because of this, curved walls have traditionally been rather expensive.
Curved Walls has discovered a way to produce curved wallseasily and more cost-effectively. "We can bend drywall down to approximately the same radius of a paint can. We use standard drywall and our process hardens the drywall as well. It's a one-step process that makes it structurally sound," says Sorge.
If you are looking for homes in the Ottawa area, with or without curved walls… contact Chris Coveny at OttawaMove.com for information on how he can help you buy or sell your home.