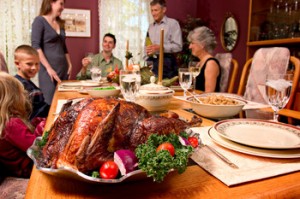 Thanksgiving is almost here! It's the time to be with family and friends, and enjoy some excellent home cooking. If you're looking for ways to keep busy over the long holiday weekend, here are a few things you can do close to home:
Watch the game It's tradition, of course! And luckily there's no shortage of football games over the weekend. Winnipeg plays the Hamilton Tiger Cats on October 7 at 7:30. The Argonauts play at Montreal on Thanksgiving.
Visit the museum The National Gallery of Canada is opening an exhibition on October 7 called Once Upon a Time in the East. The exhibit will feature the work of David Askevold, known for his development of conceptual art.
Something for the kids If you haven't been already, you'll want to check out two excellent exhibits at the Canadian Museum of Nature. The kids will love Extreme Mammals, which takes a look at some amazing and bizarre creatures from the past and present. The Canadian Wildlife Photography features stunning pictures of native wildlife by 30 talented photographers.
Check out original artwork The Central Experimental Farm, a few minutes from Hintonburg, will be holding an art exhibition and sale from October 8 to October 10. This event will be held on the Arboretum from 10 a.m. to 4 p.m.
Do something outdoors Head over to the park and enjoy the fall weather while you still can. If you're in the Westboro area, Maplelawn is always a great place to enjoy beautiful, natural scenery.
Have an interesting or off-beat Thanksgiving tradition you'd like to share? Let us know.