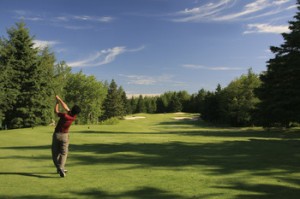 Hunt Club is located in southern Ottawa, not far from the Nepean and Riverside South communities. This quiet, suburban neighbourhood was actually named after the Hunt and Golf Club. This club still exists today and has been considered an Ottawa landmark since 1907. Members of the club can enjoy a 27-hole golf course, have access to excellent curling facilities or enjoy social activities throughout the year.
Housing prices fall between $250,000 and $750,000 on average. Both public and Catholic schools are spread about the community. There are several parks in the area including Owl, Cahill and McCarthy.
The Ottawa MacDonald-Cartier International Airport is just to the south. The O-Train Greensboro station is above the South Keys Shopping Centre, just ten minutes from beautiful Riverside Gate condominiums. Among the many retail and department stores, this outdoor strip mall has a grocery store and a movie theatre. Be sure to check out Future Shop if you're in the market for new electronics.
There are lots of good restaurants a short drive away. For some of the best steaks in Ottawa, don't pass up The Keg Steakhouse and Bar. Take the kids over to Wild Wing for delicious chicken wings and sauces, or grab a pizza at Papa Joe's on Hunt Club Road. Try the fish and chips at The Riverside Pub, or if you're in the mood for Asian, stop by Thai Lanna, just five minutes away from Atrium II.
Think you want more information about Hunt Club homes for sale? See what this charming community has to offer.