Overlooking the Ottawa River, LeBreton Flats is one of the most popular Ottawa Walking District inner cities. With over forty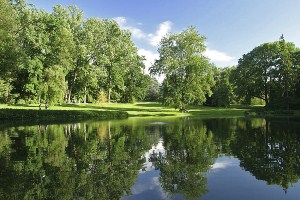 percent of the community reserved for parks and open areas, this neighbourhood has an abundance of space for pedestrians to enjoy the outdoors. Many residents can be found biking or skating to nearby shops and restaurants.
Green Living in LeBreton Flats
To ensure sustainable living, residential buildings and town homes are within walking distance of many offices. Environmentally-friendly technologies are utilized around the city.
For instance the Canadian War Museum, which opened in 2005, has used "green" roofing to reduce energy use and help insulate the building. The museum has both adult and family programs. Many exhibits have examined Canada's role in past and recent wars through photography and art.
Fun Festivals in LeBreton Flats
LeBreton Flats is often recognized for holding various festivals and concerts throughout the year. The Cisco Ottawa Bluesfest, a twelve day long festival just started July 5. The Reggae Festival and Children's Festival have also been held at the Flats, along with events for VE Day and Remembrance Day.
Things To Do in the Area
Booth Street and Somerset Street are not far from most housing. Just a ten minute walk from the Canadian War Museum, these streets offer great restaurants and places to shop. Close by is the Dominican College of Philosophy and Theology.
The Rideau Centre and Byward Market are also a short drive from LeBreton Flats, with a plethora of shopping and businesses to check out.
Whether you're seeking a more eco-friendly lifestyle or want to stay close to Ottawa's latest events, LeBreton Flats has plenty to offer you and your family.
Want to Know More?
Contact me now for more information about LeBreton Flats or to take a tour of the area.