With the weather warmed up, you can expect some great outdoor events happening around Ottawa. Check out the following festivals and museum exhibits, and see which ones take place near your Ottawa neighbourhood.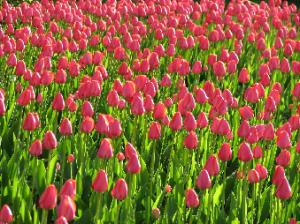 May is The Month for Tulips
You've no doubt seen the colorful arrangements, but if for some reason you haven't, the Canadian Tulip Festival is going on right now throughout Ottawa. It ends May 20, so be sure to get your pictures now before it's too late.
Family Events This May in Ottawa
The Canadian Croatian Folklore Festival is coming to Ottawa from May 17 to May 19. Now you can finally learn everything you ever wanted to know about Croatian culture. Head out to the Ottawa Convention Centre, about two kilometers west of Sandy Hill, for a Friday and Sunday dance performance at 8 p.m., and a Saturday banquet at 6:30 p.m. The National Arts Centre Theatre, just minutes from Byward Market homes, will host a concert on May 18 at 1 p.m. and May 19 at 2 p.m.
The Ottawa International Children's Festival will take on May 28 until June 2 at the Lebreton Flats Park. There will be a variety of performances and activities like an instrument 'petting zoo,' storytelling, a drum workshop, face painting, dances and plays from international artists.
May 2013 Exhibits and Performances in Ottawa
If you live in the Westboro area, head out to the Canada Agriculture Museum for the Sheep Shearing Festival on May 18 from 10 a.m. to 4 p.m. Take the kids to see a shearing demonstration, learn about felt-making and wool weaving, watch a sheep dog trial, and more.
Starting May 31, the Canadian Museum of Nature will feature the exhibit Oil by Edward Burtynsky. Visitors can view large-scale photographs of the refineries, oil fields and the development network of this precious resource.
On May 26, the Centralaires Concert Band will perform at the Canada Aviation and Space Museum, close to Rockcliffe Park homebuyers. The band, which is made up of former members of the Canadian Armed Forces, RCAF and RCMP bands will play at 2 p.m.