Hintonburg is one of the city's hottest neighbourhoods right now, with trendy highrise condos planned and new attention being given to the commercial district along Wellington Street. The area's ideal location right between Centretown and Westboro means there's always plenty to do within a short walking distance, and the scenic views of the Ottawa River attract cyclists, joggers, and those just out for an evening walk.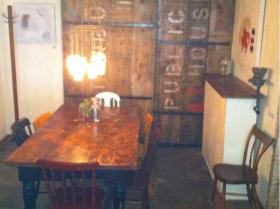 With all eyes on Hintonburg lately, lots of great new restaurants, pubs, and bakeries have popped up in the area. The popular Hintonburg Public House opened their doors at the end of 2011 to bring a fresh new style of restaurant to the neighbourhood. According to the business owner, their goal is to bring a casual eatery to Hintonburg that still offers quality food and drinks at a reasonable price.
Hip and Trendy Ottawa Hotspot
The Hintonburg Public House may not be the most spacious spot in the city, but its cozy atmosphere will make you feel right at home. And while space can be limited, groups of six to ten people are welcome to call ahead and make reservations for the Harvest Table, which offers additional seating for larger parties. Whether you want to host a birthday party with your friends or just grab a bite to eat after work, the friendly staff will do their best to make sure you have an enjoyable evening.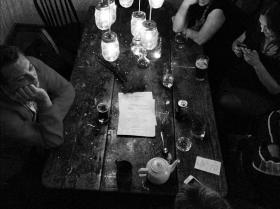 The extensive menu offers something for everyone with the dishes prepared in-house from scratch. Diners can select from a range of options, including beer-battered fish and chips or potato and cheddar perogies. The kitchen will also do their best to accommodate vegetarians or diners with health concerns. If you have guests staying for the weekend, try bringing them by the Hintonburg Public House for brunch. The brunch menu is offered between 11 a.m. and 2 p.m. on weekends and all holidays.
Late Night Eats in Ottawa
The Hintonburg Public House also offers a late-night menu Thursdays through Saturdays for those staying out until 2 a.m., including both lighter eats, like pickled eggs or marinated cheese curds, and larger plates such as a poutine or a farm beef burger. Those who are looking for a late night out can enjoy the Public House's wide selection of craft beers available either on tap or in bottles. Non-beer drinkers can choose from an impressive wine list, or try a house mixed drink.
The full menus are available on the Hintonburg Public House website, along with a calendar of upcoming events for you to check out, like their trivia night or Sunday night Beer'N'Board Games. You can also view photos, read their blog, or contact the Public House about making reservations.
If you're searching for the next great spot to eat in Ottawa, make sure you check out the Hintonburg Public House. And there are always exciting new restaurants opening up throughout the city, whether it be in the Byward Market, the Glebe, or Sandy Hill. Call us or e-mail us for more info on Ottawa's trendiest pubs and eateries, and make sure you subscribe to the Ottawa Move blog to keep updated.