Winter has seemed to stretch a little longer than usual in the Capital! Low temperatures and repeated snowfalls throughout March have made it tough to remember that spring is on the way. But despite winter's lingering effects, April really is just around the corner, and Ottawa residents can get a jump-start on their spring fever by attending this year's Originals Spring Craft Show.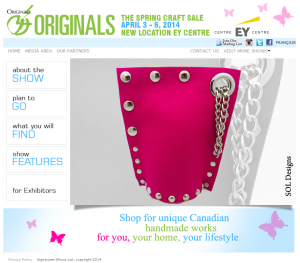 The Originals Spring Craft Show is an annual event that takes pride in the fact that it "ain't your grandmother's craft show." Artisans and exhibitors are carefully selected by Signatures Shows, which is a Canadian owned and operated business that has been working to develop Canada's craft marketplace for over 30 years. As their website proclaims: "No kitchy, tacky crap here!" Shoppers will find a wide selection of beautifully handcrafted gifts, jewellery, fashions, treats, and more.
Local Ottawa Artists at This Year's Event
Several Ottawa exhibitors will be appearing at the Spring Craft Show, giving you the chance to support local businesses while also checking out great wares from across the country. Nathalie Champagne Jewellery will be featured at the show, offering one of a kind glass jewellery that would make a perfect Mother's Day gift, or you can stop by her retail shop downtown Ottawa in the ByWard Market. Another local artist at the Spring Craft Show is Jane Snider, who creates unique pottery that would add instant charm to your indoor or outdoor décor, and operates a retail location in Hintonburg.
The timing of the Spring Craft Show couldn't be better! With the arrival of spring comes a host of events and holidays to shop for, from Mother's Day or Father's Day to baby showers and weddings. As an added bonus, it's a breeze to get all your spring and summer shopping done in one stop. True to the core values of Signature Shows, each exhibitor offers something unique. You're sure to find something for everyone on your list!
The Latest Event at the EY Centre
The event will be on between April 3rd and 6th, and takes place at its brand-new location at the EY Centre in Ottawa South. This full-service convention centre is conveniently located on Uplands Drive, just 15 minutes from downtown Ottawa, and provides plenty of parking options. Shoppers travelling by public transit can get to the EY Centre quickly and easily on the 97, an OCTranspo Tranistway route.
Need to know what's happening? You can call or e-mail Chris for more info on upcoming events in Ottawa. Thinking of moving into your dream home in a new neighbourhood? Give the Ottawa Move Team a call to find out more about the area! And be sure to stay updated on all the latest events in Ottawa by subscribing to our blog.