The spring real estate market is fast approaching in Ottawa! Statistics released this week from the Ottawa Real Estate Board demonstrated a 29.7 percent month-over-month increase of home sales, with 256 more properties switching hands in March than in February. Members of the Board sold 1,126 residential properties through the Multiple Listing Service, compared to 1,160 in March of last year, which is a decrease of 2.9 percent.
Of the home sales in March of this year, 230 were in the condominium property class and 896 were in the residential property class. The condominium class represents all properties that are registered as condominiums, regardless of style, while the residential class is made up of all other residential properties.
Ottawa Market Shows Signs of Spring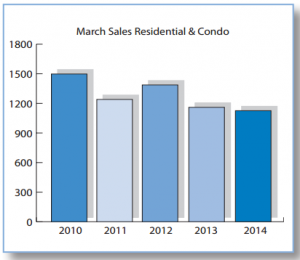 Signs of spring are evident in the numbers, with a total of 2,776 properties listed in March and an average of 49 days on market, which is lower than the average of 61 days on market seen in January and February. Properties are beginning to move more quickly as Ottawa enters the second quarter of 2014.
The average sale price for a residential home or condo sold in March was $359,051, which is up 0.3 percent over March of last year. The average sale price for a condominium-class property was $251,381, a decrease of 2.1 percent, and residential-class properties saw an average sale price of $386,690, which is an increase of 0.2 percent.
The Latest Real Estate Trends In Your Area
Ample inventory coupled with great rates are providing opportunities for move up buyers to find their dream home in many of the walking districts. Meanwhile, investment properties and land development purchases remain scarce in the high value walking districts of Sandy Hill, Glebe, Centretown, Westboro, and Wellington Village.
We currently have clients looking for a home with Victorian charm in the Golden Triangle, if you know anyone thinking of selling their home or triplex. Whether you're planning to sell your row unit in Sandy Hill or are looking to move into a single family house in Alta Vista, Chris and the Ottawa Move Team have experience and knowledge on market trends across the city.
You can read the full news release on the Ottawa Real Estate Board website. For the latest on the market trends in your neighbourhood, give Chris a call or send him an e-mail! You can also contact the Ottawa Move Team at any time for more details on the recent sales statistics or for additional info on how to find your dream home.