As the nation's capital, Ottawa's well-known for its impressive heritage buildings and national landmarks, and highly anticipated annual events like Winterlude and the Tulip Festival never disappoint. Both residents and visitors alike have plenty to choose from when looking for new things to do across the city.
But lately it seems that everyone's been talking about Ottawa food. Unique new restaurants are popping up in neighbourhoods across the city, from Vanier and New Edinburgh on the east side of downtown, to Little Italy, Old Ottawa West, and Britannia Village in the west. Ottawa now has a fast-growing reputation as it moves forward with diverse and interesting dining options.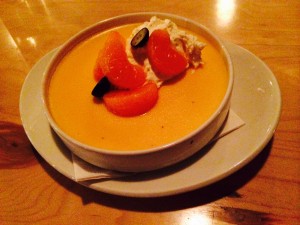 Part of the force behind this shift in Ottawa's food culture has been the work of Stephen Bekta, the restaurateur behind some of the city's most popular local eateries. The award-winning Bekta Dining and Wine is located in Centretown, while sister restaurant Play Food & Wine has become a must-visit staple of the ByWard Market dining scene.
Trendy, Relaxed Vibe at Westboro's Gezellig
Bekta's newest Ottawa venture, Gezellig, is located in the heart of trendy Westboro, one of the city's most sought-after neighbourhoods for work, play, and everything in between. The convenient location on Richmond Road at Churchill makes this new Ottawa restaurant easily accessible by either car or public transit, or for those who would rather head over on an evening stroll or bike ride, Gezellig can be found a short distance from pedestrian and cycling paths that run alongside the Ottawa River.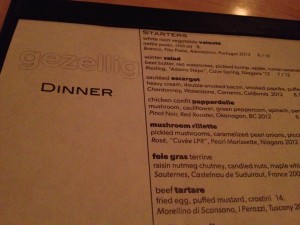 After a morning of shopping along Wellington West, stop into Gezellig for a breakfast biscuit sandwich or sticky apple pudding off the brunch menu, topped off with a Bridgehead coffee. If you're planning a lunch or dinner outing with some friends or colleagues, the bright, relaxed atmosphere makes a perfect spot to gather your group together. Try a sugar snap pea risotto, the smoked king mushroom, or the B.C. halibut, just a few of the variety of options available on the menus.
"Great Wine is Alive" at Ottawa's Gezellig
Wine lovers will enjoy the wide selection offered at Gezellig. According to their website, "Great wine is alive. We strive to only serve great wine here. We choose our wines based upon three criteria: a sense of place, great value, and being delicious." If you can't choose, the staff will be more than happy to help you select the right wine for your evening. And if you're not a wine drinker, there are plenty of house cocktails, draft or bottled beers, and non-alcoholic beverage options available as well.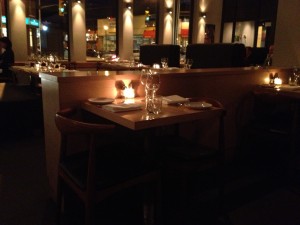 Check out the Gezellig website for the full menus, a gallery of photos that show off their dishes and restaurant atmosphere, and contact details so you can make a reservation. Interested in other hot new restaurants in Westboro or other areas of Ottawa? Give Chris a call or send him an e-mail to stay up to date on the newest eateries the city has to offer. 
You can also contact the Ottawa Move Team for more information on any of Ottawa's neighbourhoods, including new homes or condos, upcoming events, the local real estate market, and more. Whether you're thinking about selling your house or condo or searching for your dream home, the Ottawa Move Team has the experience, knowledge, and tools to help you!