It's tulip season again in the Capital! The Canadian Tulip Festival kicks off May 9th in Ottawa and will continue until the 19th. Every year, local residents and visitors alike look forward to North America's largest Tulip Festival, a tradition originating from the Dutch Royal Family's gift of tulips for Canada's role in spearheading the liberation of the Netherlands in World War II. Since then, the tulip has become the official flower of Ottawa and the floral symbol of international friendship.

Ottawa Festival Highlights Best Walking Districts
In addition to its rich royal history, the Canadian Tulip Festival highlights some of the most scenic walking districts in Ottawa, with tulip displays in areas such as the ByWard Market, the Glebe, Little Italy, the Golden Triangle, Centretown, and Dow's Lake. Visitors can spend either a full hour or the entire day enjoying the tulip gardens and stopping to take part in festivities at different points throughout the city.
The 2014 Tulip Festival will kick off at Dow's Lake with a Floral Friendship Fireworks display on May 9th, featuring a special tribute to veterans as music is set to original fireworks creations. Similar events will also take place May 14th and May 17th. Activities and events will be going on daily during the festival, with highlights including the Tulip Cycle at Queen Juliana Park, the Tulip TraXion event every day at City Hall downtown, and Capital Sounds, featuring free musical performances throughout the festival.
Tulip Displays in Great Ottawa Neighbourhoods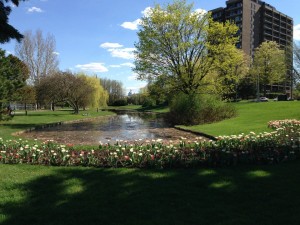 Visitors can enjoy a picturesque walk along the historic Rideau Canal, from Parliament Hill downtown all the way to Dow's Lake, taking part in various activities along the way. Tulip beds will be on display along the Canal, with many neighbourhood streets and businesses taking part in the festival by featuring additional tulip displays. Some of the city's most sought-after residential neighbourhoods have front-row seats to the excitement and events at this year's Tulip Festival!
The Canadian Tulip Festival is one of Ottawa's most anticipated annual events and is a great event for everyone. For more details on this year's event and some highlighted activities, visit the Tulip Festival website. You can also contact the Ottawa Move Team for more information on the Tulip Festival or on any of the neighbourhoods taking part in the event. Give Chris a call or send him an e-mail to find out more about these great Ottawa neighbourhoods, and check back regularly for all the latest on upcoming events in the capital!