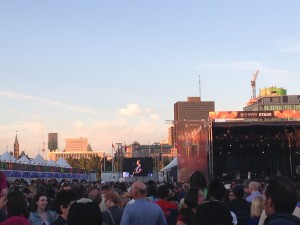 Anyone living within walking distance of Ottawa's downtown spent the past week and a half enjoying the sounds of the city's annual RBC Bluesfest, an outdoor music festival held each year at Lebreton Flats. This year's line up included concerts by Lady Gaga, The Killers, the Sam Roberts Band, the Barenaked Ladies, and many more. Each year, music fans from across Ottawa head down to Lebreton Flats, just west of the city's bustling downtown, to take part in the eleven-day event.
Bluesfest Has Become an Ottawa Tradition
Bluesfest celebrated its 20th anniversary this year, and has grown significantly since its beginning in 1994 at Major Hill's Park in Ottawa's Centretown. In the years since, Bluesfest has incorporated more diversity to its annual line up, including performances from Bob Dylan and Great Big Sea to Skrillex and the B52's. Ottawans anxiously await the announcement of who will be playing Bluesfest every year, and 2014 did not disappoint! For those who enjoy all kinds of music, Bluesfest is the highlight of the summer, offering a taste of not only blues, but rap, pop, rock, indie, country music, and more.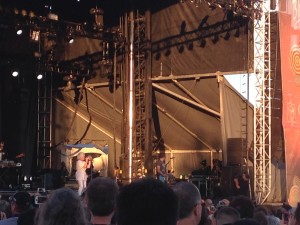 This year's festival kicked off on July 3rd with Blake Shelton, Danny Brown, and Tegan and Sara, just to name a few. The unique set-up at Lebreton Flats allows Bluesfest to offer several different stages, with musicians performing at overlapping or alternating time slots. For guests, this adds top value for the price of their ticket, which may be a festival wristband, a day pass, or a ticket to a single event. Lady Gaga performed to an enormous crowd of screaming fans on the first Saturday night of this year's festival, with Third Eye Blind, Blondie (pictured), Cypress Hill, Styx, and Queens of the Stone Age all making appearances throughout the week, along with countless others.
Lebreton Flats Offers a Perfect Venue
Besides providing the space for several different stages, Lebreton Flats is a convenient location for concert-goers to get to any time of day or night. Bluesfest draws huge crowds, with the numbers growing every year, and getting guests to and from the festival is a top concern for planners and the city of Ottawa. The event's location is just a quick walk away for residents in nearby walking districts like Centretown, Lowertown, Hintonburg, Sandy Hill, the Glebe, and the Golden Triangle.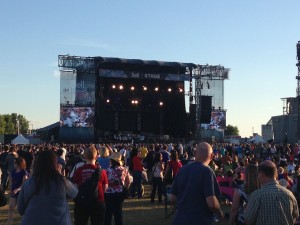 Those living further away can benefit from hundreds of OC Transpo buses that run along the Transitway, which includes a stop at Lebreton Flats, and can be at the festival within just minutes from areas throughout Ottawa. The festival space is large enough to not only host the many stages and performances, but also a wide selection of food vendors, alcoholic and non-alcoholic beverage vendors, and plenty of room to bring your own lunch and enjoy a picnic in the grass while you listen and enjoy the performances.
This year's festival was even bigger than the years before, and Ottawans can expect 2015's RBC Bluesfest to exceed expectations yet again! For more information on Bluesfest or other upcoming events in Ottawa, give Chris a call or send him an e-mail. If you'd like to find out more about any of the neighbourhoods near downtown, feel free to contact the Ottawa Move Team today! Whether you're thinking of selling a home in New Edinburgh or looking to move to your dream home in Westboro, or you're just looking to learn more about an area of Ottawa, we're happy to help answer your questions.