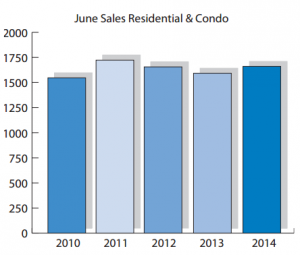 The residential resale market for houses and condos is heating up in Ottawa! In its monthly sales statistics report, the Ottawa Real Estate Board (OREB) reported 1,661 residential sales in Ottawa during the month of June. This is a jump of 4.3 percent when compared to the 1,593 sales recorded during the same period in 2013. June's sales are just slightly below the five-year average of 1,636, which can likely be attributed to the slow start to Ottawa's spring market.
Great Time for Real Estate in Ottawa
Whether you're interested in buying or selling, now is the perfect time to think about real estate in Ottawa. OREB reported "a higher demand going into June, and more homes switching hands," with an average days on market of 42 days, a steady number throughout May and June. This is great news for buyers and sellers alike, whether you're selling a duplex in Hintonburg, a condo in Centretown, or searching for a single family bungalow in Alta Vista.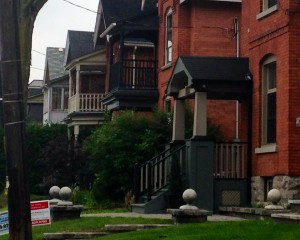 Residential sales in June included 316 in the condominium property class and 1,345 in the residential property class. While the condo class includes any property registered as a condominium, regardless of style, the residential property class includes all other residential properties. Inventory on hand for both residential properties and condos is at just over 8,500 for June, which is a moderate increase over the inventory on hand recorded at this time last year, which was at 7,500. The increase is indicative of a healthy and active spring market, with more options for Ottawa buyers and slightly more competition for home sellers.
Real Estate Info for Your Neighbourhood
The average sale price for an Ottawa home in June, including condominiums, was $354,264, an increase of 1.4 percent over the same month last year. The average price for a condo decreased by 2.8% to $258,135 over June 2013, while residential properties saw a year-over-year increase in average sale price of 1.8%, to $389,198. It's important to note that average sale prices are Ottawa-wide, and may not reflect sale prices of homes in your specific neighbourhood. For more accurate information on market trends in your part of the city, from Orleans to downtown to Kanata, contact the Ottawa Move Team today!
To read the full home sales report for June you can visit the OREB website, or you can give Chris a call or send him an e-mail. The Ottawa Move Team is happy to answer any of your real estate related questions, whether you're looking to find out the market value of your Sandy Hill investment property or you're searching for your next dream home in any of Ottawa's great neighbourhoods!