Ottawa's Centretown is one of the most active and vibrant neighbourhoods in the city. Located just south of the Ottawa River and the landmark Parliament Buildings, Centretown is home to the city's bustling financial district, dozens of OcTranspo transit routes, picturesque urban parks, and dining options including everything from casual lunch spots to more intimate restaurants for dinner. As the nation's capital, Ottawa's downtown offers something for everyone.
Ottawa's Downtown is an Ideal Choice for Home Buyers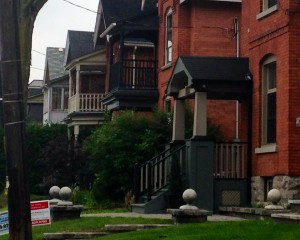 Prospective buyers looking to purchase a home in Centretown will find several different property types available for sale in the area. First-time home buyers can benefit from the ample selection of affordable condo apartments, row units, and townhomes that combine a smaller budget with the advantage of living in a highly walkable area. The residential side streets in Centretown boast a range of different properties as well, from well-maintained detached or semi-detached houses with private outdoor space to newer infills designed to balance living space with environmentally friendly building. Centretown is also an ideal choice for those looking for an investment property, as the neighbourhood's central location makes it a perfect spot for renters.
For those who do decide to buy a property downtown, Centretown residents can enjoy all the unique features of Ottawa every day. Whether spending a day browsing the vendors in the ByWard Market, strolling along the walking paths alongside the Ottawa River, or exploring nearby walking districts like the Glebe, Old Ottawa South, Little Italy, Sandy Hill, and Lowertown, living in the heart of Canada's capital offers a variety of interesting activities to suit every lifestyle. As Ottawa continues to grow, the city's restaurant and bar scene has grown as well, and Centretown residents are often the first to experience some of the city's most exciting new eateries.
New Centretown Restaurant Opens for Dinner
If you live or work near Ottawa's downtown, you've likely noticed the new restaurant on Bank Street that has slowly been planning its opening for the past several years. Fauna, located near the intersection of Bank Street and Gladstone Avenue, has finally opened its doors to customers. The restaurant and bar has been much anticipated in Ottawa due to its longer-than-usual opening process, which included signs in the windows indicating Fauna was "opening slowly." Now that the doors are open, however, Ottawa residents at last have the chance to experience the food and drinks Fauna has to offer.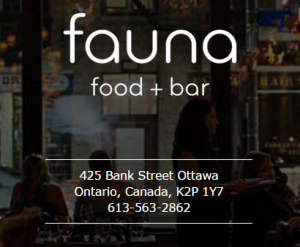 Fauna's dinner menu is composed of Canadian food options, and the restaurant prides itself on using local ingredients to bring inspiration to their dishes. According to the owners, "food should taste good and be fun to eat," and main dishes include steak, pork belly, duck breast, swordfish, and more. The dessert menu features selections to complement your dinner, including sticky toffee and flourless chocolate cake. Fauna is all about the atmosphere in addition to the fine food, and several coffee or drinks options are available to allow guests to relax and enjoy the ambience following their meal. The restaurant plans to open for lunch in the coming months as well.
Visit the Fauna website to view the full menu or to make reservations. For more info on new and upcoming restaurants or businesses around Ottawa, give Chris a call or send him an email. Chris has extensive knowledge about the city and would be happy to provide you with more details on anything about Ottawa, including advice on how to sell your home or information on buying a property. Whether you're planning to list your Alta Vista bungalow or you're searching for a condo in Westboro, or you'd like to know more about any of Ottawa's great neighbourhoods, contact Chris and the Ottawa Move Team today.