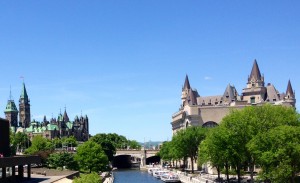 Ottawa's growth has been a hot topic lately, from the newly unveiled redevelopment site at Lansdowne Park, to discussions on the table for a revitalized Lebreton Flats, to the impact of Ottawa's LRT on some of the city's most popular suburban districts. Amidst the continuous growth we've seen across Ottawa recently, several new condo developments aim to attract buyers in all neighbourhoods of the city. Long forgotten is the idea that condos are just for young professionals or urban dwellers, with new projects being built from Orleans to Kanata, including traditionally residential neighbourhoods like Old Ottawa East, the Glebe, and Westboro.
Centretown a Top Choice for Ottawa Condo Buyers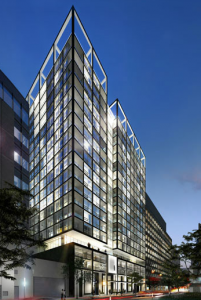 While condo buyers are seeing a definite increase in their options, downtown Ottawa remains a top choice for those planning on a condo purchase. There's something about the excitement and activity of living in the heart of the nation's capital that can appeal to almost any home buyer, and with a growing selection of condo suites to choose from, Ottawa's condo market offers something for everyone. From low-rise buildings with private terraces facing the Ottawa River, to highrise towers overlooking the bustling ByWard Market, Ottawa condo lovers can find a unit that's right for them without looking any further than Centretown, one of the city's oldest and most well-loved neighbourhoods.
The Slater is one of several new condo towers planned for Centretown, and is currently under construction at 199 Slater Street near the corner of Bank Street, one of the busiest intersections in Ottawa. The building will house 178 condo units within 21 storeys, with units ranging in price from $215,000 to $972,800. The cost of parking is also included within the purchase price of selected suites. Buyers can opt for a variety of different floor plans, with units starting at 408 square feet and reaching over 1600 square feet, depending on the style of suite selected.
Classic Style Complemented by Ottawa Amenities
The building's bold black-and-white exterior is intended to evoke allure, sophistication, and an iconic landmark design. The Slater aims to become Ottawa's new "it" address, providing residents with more than just an average condo apartment. The minimalist interiors will impress buyers as well, with an understated and classic design to complement the clean, modern exterior. Inside, residents will find a striking lobby featuring dark tile and marble accents and a wide selection of amenities, including a screening room, a dining area, and a luxurious lounge for entertaining guests or hosting friends for the evening.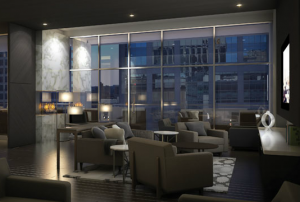 The amenities offered at the Slater are impressive, but the surrounding neighbourhood is sure to be a deciding factor for those thinking of making a purchase. Ottawa's Centretown is conveniently located within walking distance to the shops, restaurants, and pubs along both Bank Street and Elgin Street, as well as the endlessly entertaining ByWard Market. Besides all the conveniences of downtown living, Centretown residents also have access to some of the city's most scenic natural features, including the Ottawa River, the Rideau Canal, and many urban parks. Conveniently located near the OcTranspo Transitway, the newly proposed light rail transit route, and the 417, the entire city is easily accessible from this central Ottawa neighbourhood!
For more information on condos available at the Slater, give Chris a call or send him an e-mail. The Ottawa Move Team is happy to provide you with advice for your real estate needs, whether you're planning on selling your current residential home or you're considering the purchase of an investment property. Whether you're buying or selling in the Ottawa area, contact the Ottawa Move Team today!
Interior/Exterior images from The Slater website.