As Ottawa residents across the city already know, there are many benefits to living in the nation's capital. Whether you decide to buy a single family home in one of the city's quieter residential pockets like Alta Vista or Carlington, a condo suite in a Centretown or ByWard Market highrise, or a row unit in a central neighbourhood like Hintonburg, Little Italy, or the Glebe, there are a variety of different property types available for any home buyer in Ottawa.
Healthy, Stable Real Estate Market in Ottawa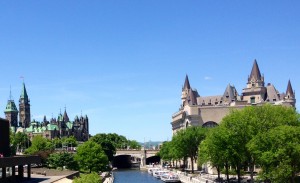 As the capital of the country, Ottawa's real estate market tends to remain relatively stable when compared to other major Canadian cities like Vancouver or Greater Toronto. Home sales in Ottawa may be balanced by government employees moving to and from the city, university students arriving and purchasing property following their studies, or a combination of any number of other factors. Whatever the reason for the steady real estate market often seen in Ottawa, month after month the city sees signs of a healthy, stable market.
The Ottawa Real Estate Board (OREB) has released statistics for homes sold by members of the Board this past September, reporting 1,133 residential property sales across the city last month. This is a 1.3 percent increase year-over-year, compared to the 1,118 properties that were sold in Ottawa in September of 2013. Home sales last month were also slightly higher than the five-year average for the period, which is 1,103.
Of the homes sold in Ottawa last month, 901 were sold in the residential property class, with the remaining 232 sold in the condominium property class. The residential property class includes any residential property sold across Ottawa that is not classified as a condominium. The Board also reported that OREB members have been active helping clients find homes on Ottawa's rental market, with nearly 2,000 units rented so far this year.
Average Price for an Ottawa Home Up 3% in September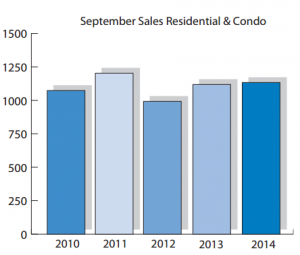 The average sale price for a residential Ottawa home or condo was $356,915 in September, an increase of 3 percent over the same month of last year. For condos alone, the average sale price in September was $254,036, a decrease of 1.2 percent when compared to the same month in 2013, while the average price for a residential class property increased 3.2 percent to $383,406.
In September, the $300,000 – $399,999 price range continued to have the highest concentration of properties sold, followed by the $500,000 – $749,999 range. The third highest concentration of properties sold were in the $275,000 – $299,999 price range. Condo sales performed better in September than they did in August, which may have contributed to the higher than usual concentration of sales in the $275,000 – $299,999 price range.
Although home sales statistics and average sale prices are helpful tools in gauging the real estate market, be sure to give Chris a call or send him an e-mail for more detailed information on the market in your Ottawa neighbourhood. Whether you're planning to sell a townhome in Orleans or you're looking to move to one of the city's top walking districts, the Ottawa Move Team can help you find out what your current home is worth and get you started on the search for your next dream home! Whatever your real estate needs may be, contact Chris and the Ottawa Move Team today.