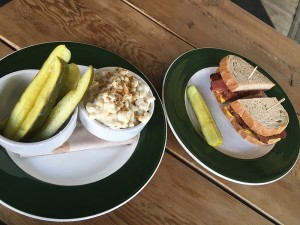 Where is the best smoked meat spot in the city you may ask… Well Meat in the Middle is definitely your answer! This sandwich and Bbq shoppe is located on the corner of Bank and McLaren st and serves the most succulent melt in your mouth smoked meat sandwiches!
Walking into this well placed little store, you are instantly surrounded by urban yet rustic touches in their decor. The menu features mostly sandwiches, but there are still a couple of soup and salad options available for those non-meat lovers. Also the sides are to die for! A bowl of mac-n-cheese or even a bowl of dill pickles… How could you ever pick between the two? Well we ordered both and they are not to be missed out on! The food is prepared quite quickly and you have the option do dine in or even take-away. All in all, this place is a definite must try!
After enjoying their amazing sandwiches at least once, I guarantee you will constantly be craving theses melt in your mouth joys from heaven all the time! Any other amazing sandwich spots we don't know about? Let us know in the comments bellow!
Meat in the Middle – Meilleure viande fumé
Où est le meilleur endroit pour engloutir de la viande fumée dans la ville, vous vous demandez certainement… Et bien, Meat in the Middle est certainement votre réponse ! Ce sandwich et BBQ shoppe est situé au coin de la rue Bank et McLaren et sert les sandwiches à la viande fumée qui honnêtement, a chaque bouché, fondent dans la bouche.
À l'entrer dans ce petit magasin bien placé, il est possible de retrouver plusieurs touches urbaines, mais toujours rustiques. Le menu propose principalement des sandwichs, mais il y a encore une couple d'options de soupes et salades disponibles pour ceux qui ne sont pas amateurs de viande. Il ne faut surtout pas oublier les à-côtés qui sont tout aussi bons que la viande fumée. Bol de macaroni au fromage ou même le bol de cornichons à l'aneth… Comment pourriez-vous choisir entre les deux ? Évidemment, nous avons commandé les deux à la fois et ils ne doivent certainement pas être ignorés! La nourriture est préparée assez rapidement et vous avez la possibilité de dîner dans les restaurants ou même prendre la nourriture pour emporter. Dans l'ensemble, cet endroit doit être sur votre liste de petit resto à essayer!
Après avoir profité de leurs sandwichs incroyables aux moins une fois, je vous garantis que vous ressentirez constamment l'envie d'engloutir ses délices qui viennent surement des cieux! Connaissez-vous d'autres endroits qui offrent des sandwiches qui sont incroyablement bons? laissez-nous savoir dans les commentaires ci-bas!