Make Full Bar with Fuel
The Fuel Bar shows itself as an ideal place to pick-up local meals that are fresh and organic and perfect for breakfast and lunch. Open Monday to Friday from 7:00 a.m. to 4:00 p.m., the Fuel Bar ensures you receive all the nutrients to help you maintain a steady energy level and concentration until the end of your day.
Why The Fuel Bar?
Located on the corner of Slater and Metcalfe, specifically 99 Metcalf Street, the Fuel Bar presents itself as having a clean, fresh and energetic space. Whether early in the morning or late in the afternoon, it is possible to rely on food prepared with freshness and energy. Whether juices designed to order, the variety of options for breakfast full of protein, quick wraps, salads or even nutritious food bowls, he is certain to find a meal that will suit your fancy of the day.
Of all the dishes offered, my favorite dish is the vegan chili bowl. It is filled with several vegetables, placed on a bed of quinoa; I like to add avocado and vegan cheese. It is so tasty and filling! They also have great drinks. My favorite has to be the "immune booster". it is filled with oranges, carrots, lemon, ginger and cucumber. You also have the possibility to add a little cayenne pepper, I highly recommend it!
This site qualifies well as a "quickie" since it is positioned perfectly for an easy access by many who work in the downtown core. The food takes about 2 minutes if there is not a large line. Moreover, it is also possible to place your order before arriving with a quick phone call, or can even have it delivered to the office.
Dinner Free Parking
Before you get there, it is important to know that parking around the Fuel Bar is not so easy. It is better to get there by foot or public transport. The average cost per person at lunch is about $ 23 if you order a juice and a meal. This price is a little high if you take in consideration the fact that it is not a place that offers table service, but the majority of products are organic, fresh and really tasty.
Finally, I strongly encourage you to have a look at the Fuel Bar and let us know what you think!
Le quickie à midi – The Fuel Bar
Faire le plein avec le Fuel Bar
Le Fuel Bar se présente comme étant un endroit idéal pour ramasser des repas locaux, frais et organiques qui sont parfais pour le petit déjeuner et le diner. Ouvert du lundi au vendredi, de 7h00 à 16h00, le Fuel Bar vous assure de recevoir tous les nutriments qui vous aideront à maintenir un niveau stable d'énergie et de concentration jusqu'à la fin de votre journée.
Pourquoi le Fuel Bar ?
Situé sur le coin de la rue Slater et Metcalfe, plus précisément à 99 rue Metcalf, le Fuel Bar se présente comme ayant un environnement propre, frais et énergétique. Que ce soit tôt le matin, ou tard dans l'après-midi, il est possible de compter sur une nourriture préparée avec fraicheur et énergie. Que ce soit les jus conçus à la commande, de la variété des options de petits déjeuners remplis de protéines, des wraps rapides, des salades nutritives ou même des bols d'alimentation, il est certain de trouver un repas qui va convenir à votre envie de la journée.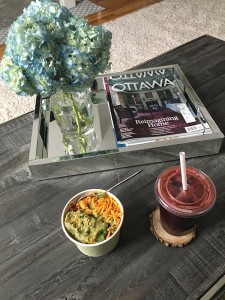 De tous les plats qui sont offerts, mon plat préféré est le bol de chili végétalien. Il est rempli avec plusieurs légumes, déposé sur un lit de quinoa ; j'aime y rajouter de l'avocat et du fromage végétalien. Tellement savoureux et remplissant ! Ensuite, mon breuvage préféré se trouve à être l'« immune booster ». Un breuvage parfait pour les mois d'hiver pendant qu'il fait froid et vous ressentez constamment le sentiment qu'un petit rhume se faufiler dans votre corps.
Il contient des oranges, des carottes, un peu de citron, du gingembre et du concombre. Vous avez également la possibilité d'y rajouter un peu de poivre de cayenne, je le recommande fortement. Cet emplacement se qualifie bien comme un « quickie » puisqu'il se situe bien dans un endroit qui est facilement accessible par plusieurs personnes qui travaillent dans le centre-ville d'Ottawa. La nourriture prend environ 5 minutes à être complètement préparée. Par ailleurs, il est aussi possible de rentrer sa commende avant de se rendre au Fuel Bar par l'intermédiaire d'un appel, ou même de faire livrer la nourriture à votre emplacement de travail.
Dinner sans stationnement
Avant de s'y rendre, il est important de savoir que les endroits de stationnement autour du Fuel Bar ne sont pas abondants. Il est mieux de s'y rendre par pied, ou transport en commun. Le cout moyen par personne se trouve à 23$ si tu commandes un jus. Ce prix se trouve un peu haut considèrent que ce n'est pas un endroit qui offre un service de table, mais pour le diner et considèrent que la majorité des produits sont organiques et frais…
Finalement, ont vous encourage fortement de jeter un coup d'oeuil au Fuel Bar et nous laissez savoir ce que vous en pensez !