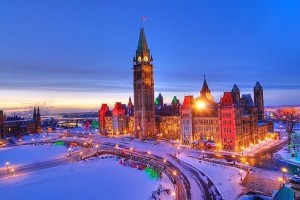 We may concentrate on getting you the most up-to-date real estate information in Ottawa, but we also want to let you know how many great things there are to do in the wonderful town. OttawaMove.com has compiled a list of our favourite things to do below:
1. Notre Dame Cathedral Basilica: This beautiful church, which is actually Ottawa's oldest standing and largest, is a National Historic site in Canada. Check out their website, notredameottawa.com for guided tour information.
2. Ottawa Walking Tours: One of the best ways to experience the city is on foot! Let Ottawa Walking Tours take you on one of their unique 2-hour journeys. You can find out more by visiting ottawawalkingtours.com.
3. Canadian Museum of Nature: One of the most unique museums in the area, the Canadian Museum of Nature is open year round with truly fascinating and educational exhibits. Go to nature.ca to find out more.
4. Parc de la Gatineau: This beautiful park is comprised of over 89,000 acres, with lots of natural wildlife. Take a hike, literally, at this gorgeous park located near Parliament Hill.
5. Parliament Hill: Home to the Canadian House of Commons, Hall of Honour, Liberty of Parliament, and Peace Tower, Parliament Hill is an architectural masterpiece. To see the history, go to 1 Wellington Street and see for yourself.
Contact Chris Coveny for all your Ottawa-area real estate needs at OttawaMove.com.