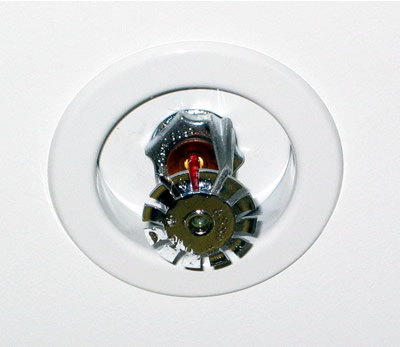 Starting April 1, all new apartments and condos that are higher than three storeys are now required to install sprinkler systems. The Ontario Building Coded, which currently already requires that new residences have hard-wired smoke detectors on every floor, is putting their foot down after some recent fire deaths have been ruled as completely avoidable and controllable.
Fire Chief, John de Hooge, said, "We get really upset when we hear somebody's been injured or killed through crime. What you don't see is the same anger in a community when peoples' property or their lives are lost to fire."
The concern is shifting to newer buildings because their infrastructure is more light-weight and not as sturdy as older buildings. Older buildings have more substantial lumber and other building materials that don't allow fires to spread as quickly. In addition, modern furniture is now made up of highly-flammable plastic material, foam and other components that can exacerbate a fire.
"What we're finding is that we're getting to a typical single-family dwelling and, if we have to do a rescue, we're challenged with not only the fire condition, but anticipating a structural floor collapse for our people," said deHooge. "That's a big challenge."
According to fire experts, a new home and its furnishings can be consumed by a fire in only three minutes compared to 17 minutes for an older home from the 1970s. Because of this, having an escape plan is of dire necessity. However, de Hooge thinks that sprinklers will be effective also.
(The fire service estimates sprinkler systems would cost 0.75 per cent to 1.5 per cent of the total cost a new home. On a $400,000 home, that would amount to between $3,000 and $6,000.)
Looking for Ottawa real estate? Contact Chris Coveny at OttawaMove.com.