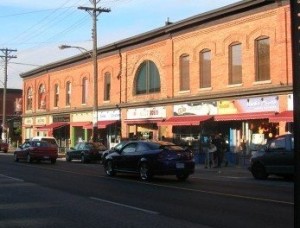 The Lansdowne Park redevelopment is starting to really take shape, with a unique mix of shops, restaurants and retail outlets coming together to provide a truly different experience to the residents of Glebe.
John Williams, senior partner with J.C. Williams Group Limited, which is working together with the Ottawa Sports and Entertainment Group, said that the "unique urban village" should be a "multi-dimensional experience" that will be an "anchor" for Glebe with the new mix of retailers, a specialty grocery store, a farmer's market, restaurants and cafes, a pharmacy, a sporting goods shop, and movie theater.
However, not everyone is excited about the proposal, which is up for a final vote this June. Catherine Lindquist, executive director of the Glebe Business Improvement Area has concerns about the traffic flow and parking. She is also concerned about how the new outlets will positively impact the current retail outlets and overall neighbourhood vibe.
Touching on the already existing shops, Lindquist states, "We have two existing retail villages in the Glebe and Old Ottawa South — small, independent, unique stores."
To contest what Lindquist is saying about the dangers of bringing in new shops, and the possibility of driving out business from existing retailers, Williams stated that the proposal redevelopment plans "honour the buildings and the community that goes around it. It is not going to be a power centre, it's not going to be a vanilla-whitebread mall. It's not going to be a cutesy village," he said.
Although the size of the new retailers has not been set yet, and no one has said yet whether the shops will be local or national brand, or a mix of both; one thing is certain: A portion of Glebe residents are opposed to the plan.
June will tell the community more details about the proposal, and what will be up for debate will most likely be revisited then.
If you have any questions regarding Ottawa real estate, contact Chris Coveny at OttawaMove.com.