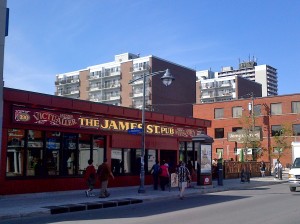 When deciding where to live, a number of criteria need to be met. In Centretown this criteria is not only met, but also surpassed. Students and young people looking to rent or buy a home are often influenced mainly by two issues. These are location and cost. If location is the biggest issue then Centretown is tough to beat. It has been described as the heart of Ottawa, and it is just that. 
Below there are three main topics outlined:
With Bank Street and Elgin running right down the middle, one is never too far away from the excitement. Centretown is just a few minutes walk to Parliament and then from there just a few minutes more to the Market. It is a short bus ride to both Carleton and Ottawa U, and so the main deterrent in the area is the cost.
The average rent for student housing in Centretown is $500 plus utilities per month. This often discourages people from searching for homes in the area. Likewise, the average price of a home in the area can discourage first time buyers. Single family homes in the area cost $527,095 on average and condominiums cost nearly $353,748. This price is merely reflective of the quality of life in the neighbourhood and should not deter first time buyers.
Centretown is made up of single-family detached and semidetached homes, as well as townhouses, condos and commercial buildings. The larger streets of Bank and Elgin consist mostly of commercial buildings. It is in these areas that Grocery stores, Restaurants, bars and shops are located. No matter where in Centretown one lives these areas are very accessible by foot. Hartman's grocery store is situated just north of the centre point of the neighbourhood, as is Gabriel's Pizza, which is right across Bank. A little further south one can find James St. Pub as well as Bramasole Diner. Three streets East is Elgin Street Diner, home to the best poutine in all of Ottawa. Getting back to the more residential areas of Centretown, a first-time buyer can find quiet streets lined with trees and small single-family homes. They are perfect for individuals who enjoy the beauty of nature and thrive in the city setting. Young couples looking to start a family would be very comfortable in Centretown as well, as there are many lovely parks and schools within walking distance. If a condo is preferred there are several in the area and three more in the works. New luxury condominiums are nearing completion on the corner of Bank Street and Gladstone, and another development has just begun on the corner of Kent and Gladstone, which will start at a very reasonable $139,900. Individuals who dream of buying a house or condo in Centretown, but are worried that it is too expensive, need only to observe the new developments in progress, to see that their dreams can be fulfilled.
What are your favourite things about Centretown? Are you excited about the new developments in the area?