If you haven't considered Findlay Creek (located off Bank Street in the south end of Ottawa) as your destination to buy a home or rent yet – now would be the time. The construction of the first shopping plaza is in full effect. Findlay Creek residents are getting excited about the great variety of stores and facilities moving in next door. So what is Findlay Creek shopping centre going to offer?
What to expect
Shopping Layout
Architectural Styling
Tim Hortons
Retail Space
Medical Services
Fine Dining
Fast Food Restaurants
Bar & Grill
Childcare Services
Registration
The Location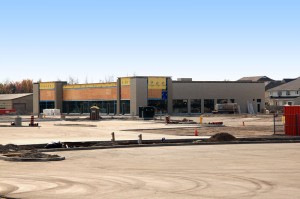 The new retail plaza will be located at the intersection of Bank Street and the main road in the neighbourhood – Findlay Creek Drive. The layout of the centre is based on the Signature centre in Kanata. So if you are especially fond of modern combinations of stone and brick as well as interlock sidewalks you will really enjoy coming to the new Findlay Creek mall (designed by a famous local architect Barry Hobin). The Plaza will hold about 950 vehicle parking spots.
What's in Store
The residents of Findlay Creek will have their own grocery store, a Shoppers Drug Mart, restaurants, LCBO, and medical facilities. Also on the list is a highly anticipated Tim Hortons!
The grocery store in Findlay Creek will be Sobeys, however what makes it very unique is that Sobeys is going build its first new FreshCo store in Ontario. Until now, all the other FreshCo stores have been only converted from already built stores. Having a grocery store right around the corner will make it very convenient for Findlay Creek residents – you will no longer have to drive out into the city to check off your grocery list.
There will also be a Shoppers Drug Mart which is a great resource for last minute shopping and pharmaceutical products you could possibly need.
The retail plaza will offer a variety of medical services which is a very important part of any community – Findlay Creek will get it's own dentist office (7Dental Group), Laurier Optical, Back on Track Physiotherapy, as well as a Medical Clinic (with five family doctors available).
The LCBO store will be the size of the store located on Bank Street and Walkley Road which is about 540 square metres.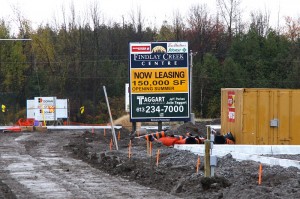 Findlay Creek Dining
Findlay Creek will now offer all types of dining to its residents, anything from a breakfast to special occasion dinners. Grab a quick bite at Subway or Gabriel Pizza, enjoy a fine dinner at Tosca Italian restaurant, wake up to traditional Canadian breakfast or have a few drinks while watching the game at Johnny Cannuck's Bar and Grill.
The shopping plaza will offer just about everything you need, all available right around the corner saving you time and commuting expenses. The arrival of the plaza will also create jobs, which will be an excellent part-time employment opportunity for students residing in the area.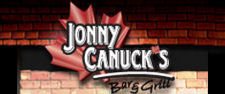 Childcare in Findlay Creek
For those with young children, a Tiny Hopper's Daycare will be available soon. The registration is currently open. This will make it convenient for young families of Findlay Creek – your children's daycare located on the way to work and back.
Scotia Bank will serve as a financial institution in the area at first, with a second currently unknown financial institution due to arrive in the second phase of construction. A 30,000-square-foot Canadian Tire and Mark's Work Warehouse is in proposal stages, as well as a fast food chain restaurant and a gas bar. Stores are expected to open as early as February 2012.
Does this help make Findlay Creek right for you? Would you like to loearn more? Contact us for more information about Findlay Creek today!