We're just one day away from Winterlude! Starting January 31 through February 17, this anticipated Ottawa festival will have all kinds of activities and things to do. Take a look below to learn about some of Winterlude's most popular events and discover if they're happening near your neighbourhood.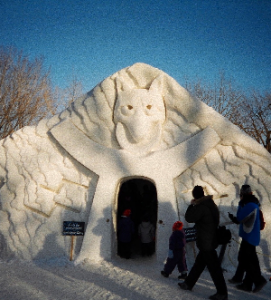 2014 Winterlude's Outdoor Activities
Winterlude's Great Winter Ball will kick things off starting at 7 p.m. on January 31. Enjoy live music, an ice carving competition, a DJ dance party and more.
Head out with family and friends to the Rideau Canal, which will transform into the world's largest skating rink.
The Rink of Dreams will be open daily throughout the festival from 10 a.m. to 11 p.m. Located at the Marion Dewar Plaza, minutes away from Confederation Park, visitors are welcome to skate and enjoy Beavertails.
Art Exhibits During Winterlude
Snow'Art will take place in the ByWard Market, where you can see snow sculptures on display throughout the festival.
Confederation Park, near Centretown families, will feature its Crystal Garden during the festival, where you can discover incredible ice carvings.
The Crystal Garden will also have two photo exhibits: New Land Exhibition – A Journey Through Canada's Vast Arctic in the Footsteps of a Norwegian Explorer and Arctic Exploring. See the Canadian arctic landscape like never before.
Winterlude Children's Events
The National Gallery of Canada will have Storytelling on Tuesdays through Sundays during Winterlude. Canadian folktales and familiar stories will be retold with a modern twist. To attend the event, admission is required.
The Canada Agriculture and Food Museum will feature a demonstration on bread-making, which will take place every day of the festival from 10 a.m. to 10:30 a.m. Visitors will be able to taste the results. Tickets are required for this event.
Jacques-Cartier Park will host all types of outdoor kids events that include obstacle courses, skiing lessons and more.
Which Winterlude event are you looking forward to?