The Ottawa Real Estate Board (OREB) recently released its sales statistics from January, reporting a soft landing for the city's resale market. 589 residential properties were sold through OREB's MLS® system in the first month of the year, compared to 594 sales in January of 2013. President of the Real Estate Board, Randy Oickle, remarked that January's sales were "virtually identical" to the same month the year before, adding that statistically, the difference is less than one per cent.
Of the 589 sales in January, 126 were in the condominium property class (which includes any property registered as a condominium), and 463 of the sales were in the residential property class (all other residential properties). Oickle addressed the increase in sales over December 2013: "The number of properties listed in January more than doubled the amount from the previous month – a normal occurrence at the beginning of the year as the holidays draw to a close and people begin to plan for the year ahead."
Good News for Ottawa Home Buyers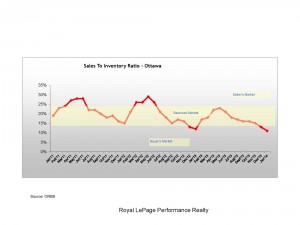 Buyers have more selection than they've ever had in Ottawa's best walking neighbourhoods of The Glebe, Centretown, Westboro, Wellington Village and New Edinburgh. Low interest rates are providing a great opportunity to buy into premium neighbourhoods at prices a lot lower than condos on a square footage basis.
As for prices of resale homes, the average sale price in January was $346,744, which is an increase of one per cent over the same month of 2013. Properties in the condominium class saw an average price of $265,775, a decrease of 1.1 per cent, and residential properties sold at an average price of $368,779 in January. This marks an increase of 0.9 per cent over January of 2013. The average sale price is calculated based on the total dollar volume of all properties sold. OREB cautions that average sale prices can be useful for establishing trends over time but should not be used as an indicator that specific properties have increased or decreased in value.
We have helped buyers look for specific waterfront properties downtown and have had success meeting willing sellers that have welcomed our unsolicited offers.
Contact the Ottawa Move Team for specific information about the real estate market in your neighbourhood, whether you're living in an urban row house in Hintonburg, looking for a condo downtown, or planning to sell your single family home in Old Ottawa South. If you are looking for a specific dream property and its not currently on the market give us a call or email and we are happy to go find it for you – whether it is an investment property, residential or commercial.