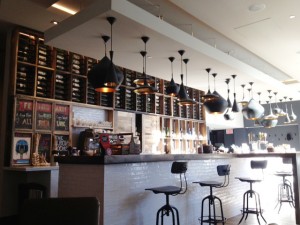 As the nation's capital, Ottawa's already well-known for its impressive landmarks, museums, heritage sites, and more. Tourists from all around the world stop in Ottawa every year to experience the exciting and historic sights our city has to offer. And with new spots to eat regularly popping up in just about every Ottawa neighbourhood, one of the best parts about visiting is the chance to enjoy a fabulous meal at one of the trendiest pubs or restaurants in the city.
One of Ottawa's most talked-about new restaurants is The Albion Rooms, located inside the Novotel Hotel just outside the ByWard Market. The unique location next to the hotel lobby gives this new restaurant and lounge a fascinating edge, with the added convenience of being right in the heart of downtown. The Albion Rooms opened in the spring of 2013 and has been in full swing since then, offering a British-style menu and a wide selection of house cocktails and craft beers in addition to their extensive wine list.
Downtown Dining and Ottawa-Themed Cocktails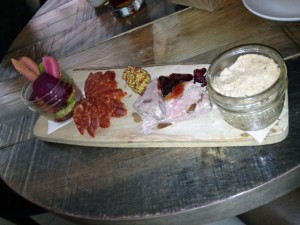 The Albion Rooms bar and lounge is an ideal spot to grab a drink with a colleague or group of friends after work. The drinks selection alone spans three separate menus and includes a variety of whiskeys, wines, spirits, and more. If you're a beer drinker, make sure you try one of the craft brews they offer on tap. They also have plenty of non-alcoholic beverages available for your designated driver. And while the staff will happily make a classic cocktail if you're looking for something more familiar, house-made drinks with names like the Rideau Ruin and the Dalhousie Diablo are bound to pique your interest. If you're not planning on a full meal, you can complement your drink with an appetizer or a selection from the charcuterie and cheese menu.
Whether you're looking for a light lunch, an intimate dinner for two, or to have a large group together for a party, The Albion Rooms provides the right atmosphere for your meal. The lunch and dinner menu offers a range of appetizing selections, from classic fish and chips to an elk burger served with your choice of side. Top your meal off with a "Nanaimo Jar", just one of the options on the dessert menu.
You can check out the full menus on The Albion Rooms website, and make sure you check back as they mention they'll be adding a breakfast menu sometime in 2014. Their website also features a gallery of photos and some additional background info about the chef and restaurant.
Looking for a new restaurant in your neighbourhood? Whether you live in New Edinburgh, Alta Vista, or Westboro, there are lots of great eateries and pubs to be found. Give us a call or e-mail to find out more info about Ottawa's hottest new places to eat, and be sure to subscribe to the Ottawa Move blog to get the latest updates.