Spring is quickly approaching in Ottawa and Winterlude has come and gone, but there are still plenty of opportunities to get out and enjoy winter in the capital before all the snow melts. With so many winter activities and events going on, Ottawa is a great place to visit while the temperatures are still low.
Winter Events in Ottawa's Downtown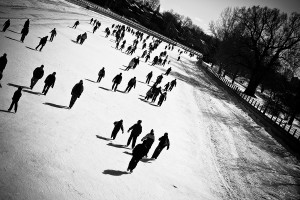 In and around the downtown core, the Rideau Canal Skateway is still open most days and is a classic winter event for both residents and visitors alike. The 7.8 kilometre-long skating rink stretches from the heart of downtown all the way to Dow's Lake, giving skaters a scenic view of winter in the city. Skate rentals, rest stops, chalets, and washrooms are set up at various points along the canal so skaters can take a break or warm up.
If you have your own skates and you aren't up for a long-distance skate, the Rink of Dreams is the perfect alternative! Located outside City Hall, the Rink of Dreams is open every day between 6:00 a.m. to 11:00 p.m., with a heated changing facility on site, open from 8:00 a.m. to 11:00 p.m. Not only can you stop to enjoy a Beavertail, but after your skate you can stop in learn about Ottawa with a tour of City Hall, including the Barbara Ann Scott Gallery, the Ottawa Sports Hall of Fame, and the Karsh Masson Gallery, all free of charge.
Ottawa Sens Skills Competition
If you love to enjoy winter but would rather leave the skates at home, on March 12th 2014 gather the family together and head to Canadian Tire Place for Sens Skills, presented by Sport Chek. The charitable event features the Ottawa Senators competing against each other in six skills events and is sure to entertain hockey fans of any age. The skills events include the Hardest Shot and a Fastest Skater competition.
This year, the Sens will donate net proceeds of the event to the Sens RINK project and to the NHLPA's (National Hockey League Players' Association) Goals and Dreams Fund. For more information on this year's Sens Skills competition, including how to buy tickets, visit Capital Tickets.
After so many months of winter fun, it's always exciting to look forward to new events and activities coming up in the spring! Call or e-mail Chris to find out more about what's happening in Ottawa, and follow the Ottawa Move blog to keep updated about the latest events in the city.