The Ottawa real estate market continues to see stability and growth as we move forward into 2014, according to the latest sales statistics from the Ottawa Real Estate Board. While the sales stats from April 2014 show a decrease of 3.9 percent in year-over-year sales, more properties changed hands in April than in March. Additionally, properties sold in April were on the market for an average of 45 days, which is a few days fewer than they were in March.
Members of the Board sold 1,420 residential properties in April 2014, compared with 1,569 in the same month of last year. Of these sales, 257 homes were in the condominium property class and 1,163 were in the residential property class. The condominium class includes all properties registered as a condo, regardless of style, while the residential class includes all other residential properties.
Ottawa Home Prices Increase in 2014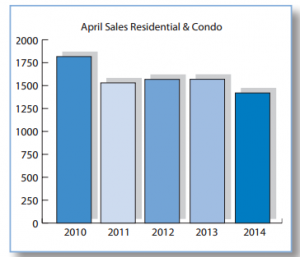 Residential properties, including condos, saw an average sale price of $374,015 in April of 2014, in increase of 0.8 percent over April 2013. For condominium class properties, the average sale price decreased 3 percent to $258,500, while residential class properties saw an increase of 0.9 percent, to $399,541. It's important to note that while average sale prices are useful for establishing trends over time, they should not be used as an indicator that specific properties have increased or decreased in value.
The Board also notes that 233 more properties were sold in April than were sold in March, which is an increase of 19.6 percent. The year-over-year decrease in home sales can be in part attributed to the slow start to spring we've seen in Ottawa this year, as spring is typically when many people begin to consider buying or selling their home. Now that spring has fully arrived in Ottawa, Chris and the Ottawa Move Team would be happy to help you make today a great day in real estate!
Real Estate Sales in Your Ottawa Neighbourhood
Neighbourhood statistics can differ widely depending on area, amenities, and property type. Luxury condos in Little Italy will experience different sales than investment properties in the ByWard Market or offices in Centretown. Be sure to give Chris a call or send him an email to get the correct numbers and most up-to-date information for your neighbourhood!
A buy low/sell high attitude is great, but only if your purchase will increase and your sale wouldn't continue to appreciate, so make sure you contact the Ottawa Move Team with any questions. We're happy to help you determine the market value of your house or condo, or work with you to help find your dream home in Ottawa!