Spring has finally arrived in Ottawa, and with the temperatures rising it's even easier to get out to enjoy all the city has to offer. Whether you're browsing the vendors of the ByWard Market downtown, checking out a new restaurant in Hintonburg, or taking the family out for a picnic in Alta Vista, Ottawa's warm weather provides something for everyone.
Food Trucks Shake Up Ottawa Food Scene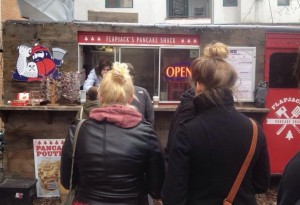 One of the top destinations in Ottawa is the Glebe, a community-oriented neighbourhood just south of downtown. The Glebe is bordered by the picturesque Rideau Canal on the east and is divided by the busy shopping stretch of Bank Street down the middle, with mature trees lining the residential streets on all sides. There's no shortage of things to do in the Glebe, whether you're on an afternoon stroll with the kids or grabbing a few drinks after a long day of work.
There are also plenty of restaurants and cafés in the Glebe, but with so much to do, there's not always time to sit down for a meal. Food trucks have become increasingly popular in recent months, offering plenty of options for a quick lunch or dinner, and have had a great impact on the Ottawa food scene. Flapjack's Pancake Shack has been open since late 2013 and offers a unique menu with gourmet pancakes or panwiches on-the-go.
DIY Breakfast in the Heart of the Glebe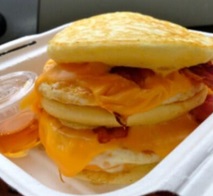 Flapjack's has become one of the city's best hidden gems since it arrived in the Glebe late last year, and can be found tucked away in a courtyard behind Mrs. Tiggy Winkle's just off the bustle of Bank Street. The wide selection of fillings and toppings lets you create your ideal breakfast,  offering everything from bacon and cheddar cheese to chocolate chips or crumbled cookies.
Or you can opt for a panwich like the Campfire, which features marshmallow and Nutella between graham cookie pancakes. If you have guests staying from out of town, make sure they try the Jimberrr! Watson panwich, with double smoked bacon, gouda, and egg. And if you're really in a hurry, Flapjack's will cut your pancakes into sticks so you can eat them and dip them while you stroll around the Glebe.
Flapjack's has been getting excellent reviews since opening last December, and has been featured in the Ottawa Citizen and on CBC, among others. Visit their website to find more info and their full menu, or check them out on Twitter.
For more information on the Glebe or any other Ottawa neighbourhood, send Chris an e-mail or give him a call. You can also contact Chris anytime for information on the latest real estate market news in Ottawa. Whether you're looking to find your dream home in New Edinburgh or you'd like to find out the value of your investment property in Sandy Hill, contact the Ottawa Move Team for the latest info.