The Ottawa Real Estate Board has released its monthly sales statistics for May 2014, reporting a 0.3% decrease in sales year-over-year. According to OREB, there were 1,792 residential properties sold in Ottawa during May, compared to 1,797 sold properties in the same month of 2013. The five-year-average for real estate sales in May is 1,765.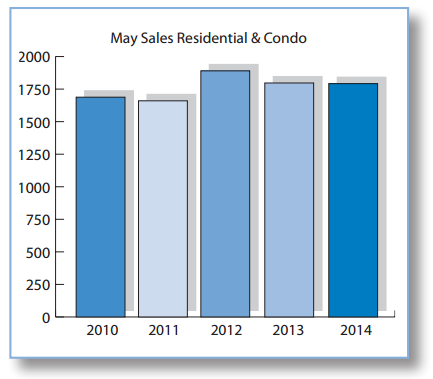 Following a long winter in Ottawa, buyers and sellers have seen a slower beginning to the typical spring surge that often takes place in late March and throughout April. Real estate activity can also vary depending on the area of Ottawa, resulting in different market trends for those looking to buy an investment property in Sandy Hill than those looking to sell their Westboro condo.
Real Estate Activity Increases Over April
Despite the slight year-over-year decrease, real estate sales are picking up when compared to the month before. As the temperature rises and better weather hits Ottawa, there has been an increase in activity for both buyers and sellers. Inventory on hand continues to grow, prices remain stable, and 372 more units were sold in May versus April, an increase of 26.2%.
Of the May sales, 303 were in the condominium property class and 1,489 were in the residential property class. The condominium class includes any property registered as a condo, regardless of style. According to the Board, the market for condos has been "a bit sluggish" as of late, despite attractive selection and prices for Ottawa condominiums at this time. Meanwhile, residential properties have seen a year-over-year increase of 1.2%.
Ottawa Home Prices Increase Year-over-Year
When it comes to purchasing a property in Ottawa, May saw an average sale price of $381,172, which is an increase of 3.2% over May 2013. The average sale price for condos alone rose 6.9% year-over-year, to $280,661, while residential-class properties increased by 2.1% to $401,626. Average prices can be an excellent gauge of overall trends in the Ottawa real estate market, but if you're looking for specific details on the market in your particular neighbourhood, be sure to contact Chris and the Ottawa Move Team for more info.
Whether you're thinking of selling a family home in Alta Vista, making a move across town from Hintonburg to New Edinburgh, or planning to come to Ottawa from outside the city, give Chris a call or send him an e-mail! The Ottawa Move Team will be happy to answer any questions you might have about the real estate market in Ottawa. As activity picks up across the city, now is a great time to begin the search for your dream home or think about listing your house or condo.