Ottawa is Canada's capital city, and it's the place to be for Canada Day festivities! Visitors come to the city from across the country to celebrate Canada in the nation's capital. Whether you're looking for an afternoon of family fun, a day in the city with your friends, or a night out on the town, Canada Day is the time to get together, get out, and enjoy all that Ottawa has to offer.
Celebrate in Your Ottawa Neighbourhood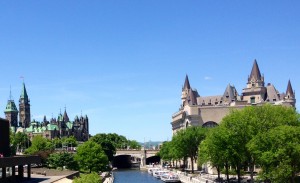 As you might expect from the nation's capital city, events will be going on in several of Ottawa's neighbourhoods. You don't need to make the trek downtown to celebrate, although many residents and tourists alike will be making their way to Parliament Hill, the Byward Market, Centretown, or Lowertown to participate in activities this Canada Day. For those who'd like to avoid the large crowds, there's plenty to see and do in surrounding walking districts like the Glebe, Hintonburg, Westboro, Little Italy, and Old Ottawa East.
And while you likely don't need to leave your own backyard to find a party in Ottawa on Canada Day, the sights and sounds of the downtown core always guarantee a full day of fun-filled activities. Enjoy live music, street performances, food trucks, face painting, and more as you walk through downtown. Whether you're looking to grab drinks on a patio in the Byward Market or spend the afternoon by the side of the Rideau Canal having a picnic lunch with your family, the energy and atmosphere downtown on Canada Day will ensure you'll enjoy your day.
Food, Fun, and Fireworks Downtown Ottawa
Stick around after it gets dark for the best fireworks display in the city! Make sure you're downtown early to grab a great viewing spot. There will be big crowds at Parliament Hill, in the Byward Market, along Wellington and Rideau Streets, and at Major's Hill Park, but the view for the fireworks is unmatched. When the show's over, many restaurants and pubs will keep their doors open for you to enjoy a drink or a late-night snack before heading home, or you can get a quick bite at a street vendor along Bank or Elgin Street as the crowds begin to thin out.
Canada Day is a city-wide event in Ottawa, and the businesses downtown ensure they're ready for the celebrations. There's something for everyone downtown, whether you have reservations for a dinner in the Market with a view of the spectacular fireworks show, or you're planning to move from bar to bar with a group of friends well into the night. If you've never been downtown for Canada Day before, you're new to Ottawa, or you're just visiting the nation's capital for a few days, take a few hours on Canada Day to head downtown and check out all that Ottawa has to offer!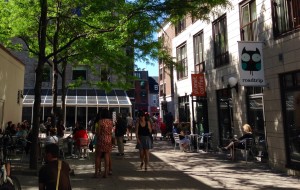 Be sure to give Chris a call or send him an e-mail for more information about upcoming events in Ottawa, or any of the city's great neighbourhoods. If you're thinking of buying or selling a home, the Ottawa Move Team is happy to help you find the value of your house or help find your next Ottawa dream home! For any questions about Ottawa or the local real estate market, contact Chris and the Ottawa Move Team today.