Ottawa's downtown area is one of the most sought-after regions in the city for anyone looking to buy a new home or condo. Historic sites line the streets while the scenic Ottawa River provides an everyday escape from the bustle of the downtown core. Centrally located within walking distance of some of the city's most popular neighbourhoods, like the Glebe, Lowertown, Sandy Hill, the Golden Triangle, Little Italy, and Hintonburg, Ottawa's downtown is a hub of activity and great place to live.
Ottawa's Central Neighbourhoods Experience New Growth
As the capital of the country, Ottawa is constantly growing and changing to reflect the needs of homebuyers looking to move into the city. Some of the more exciting developments in recent years have included a selection of trendy new condos in Centretown, offering countless urban amenities in addition to sweeping views of the Ottawa River and Rideau Canal. As the city continues to grow to support Ottawa residents, neighbourhoods surrounding downtown have seen new life breathed into their streets, with plenty of new buildings, city parks, and transit options currently in the works.
Lebreton Flats, located just west of Ottawa's downtown, is one neighbourhood that's seeing plenty of new activity lately. As plans for the city's new Light Rail Transit move forward, builders are looking to take advantage of the area's prime location, just minutes away from landmarks including the Parliament Buildings, the War Museum, and the Ottawa River. This conveniently situated neighbourhood is perfect for cyclists and pedestrians, who can easily enjoy a walk to work along the river, or those who prefer to commute via transit, as downtown is just a few minutes away.
Ottawa's Fusion Condos Merge Greenspace with Urban Style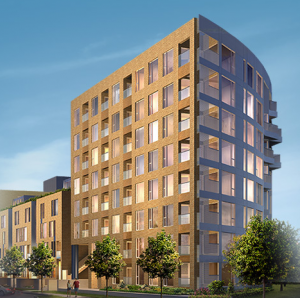 With a renewed focus on some of the most scenic and convenient neighbourhoods in Ottawa, green living in the heart of the capital has become an important aspect of new condo development. Fusion, a new building from Claridge Homes, is currently under construction at the Ottawa River Parkway and Booth Street, and is scheduled to be completed this year. Located just west of downtown, the new building aims to offer impressive views of the city skyline while peacefully co-existing with the surrounding greenspace and parks. The building will also include a direct stop along the planned LRT route, allowing for quick and convenient transit options and an active role in the overall growth of the area.
Units at Claridge Fusion range in price from $266,000 for a 613 square foot one-bedroom to $656,000 for a two-bedroom, two-bath suite that offers 1,380 square feet and includes a rooftop terrace. A variety of other floor plans are available as well, with prices varying depending on size and style of the unit. And with all the amenities of urban life situated just outside the Fusion doorstep, residents can enjoy everything from quiet evening walks along the river to front row seats to some of Ottawa's hottest events, like annual Canada Day celebrations or RBC Bluesfest.
To learn more about the new condos at Claridge Fusion, visit the project website or contact the Ottawa Move Team! We can provide you with detailed information on the real estate market in your Ottawa neighbourhood. Whether you're looking to sell your single family home in Alta Vista or are searching for your dream home in Westboro, give Chris a call or send him an e-mail. The Ottawa Move Team is happy to help with your Ottawa real estate needs!
Images from the Claridge Fusion website.