The real estate market has picked up across the city in recent months, following a slower start to the typically busy spring market seen in March and April. Ottawa's particularly long and cold winter in 2014 led to many home buyers across the city postponing their purchasing plans until the warmer weather hit, and as summer continues Ottawa has seen a strong surge in sales that has brought year-to-date sales on par with 2013.
Ottawa Home Sales Increase 8.2%
In fact, the Ottawa Real Estate Board has reported that this July's home sales are the second highest on record for the month, with July 2009 seeing the highest sales recorded at 1,578 sales. This past month saw a total of 1,445 home sales across Ottawa, which is a significant increase of 8.2 percent over the 1,336 sales recorded in the same month of 2013. The five-year-average for Ottawa home sales in July is 1,317.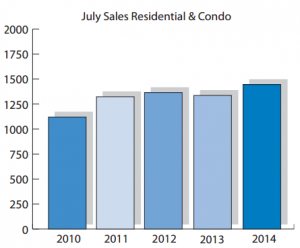 The variety of property types and neighbourhoods across Ottawa has benefited the housing market as well, with plenty of options available for all buyers. Whether you're looking to sell your family home in Alta Vista and downsize to an Orleans townhome, purchase an investment property in Sandy Hill, or you're a first-time buyer searching for the perfect Westboro condo, the current housing market in Ottawa offers something for everyone.
Ottawa Condos Offer Variety to Buyers
Of the 1,445 sales in July, 1,183 were in the residential property class and 262 were in the condominium property class. The condominium class includes any property registered as a condo, regardless of style, while the residential class includes all other residential properties. Ottawa condos have seen significant growth over recent months, and those looking to make a condo purchase have a wide range of options including everything from trendy urban high rises in Centretown to new townhomes on quiet residential streets in established neighbourhoods like the Glebe and Hintonburg.
The average sale price for a home in Ottawa was $356,735 in July of this year, which is a year-over-year decrease of 0.8 percent. The average price for an Ottawa condo decreased 5.3 percent to $261,663 when compared to July 2013, while residential-class properties saw a year-over-year decrease of 0.8 percent, with an average sale price of $377,791 in July of this year. As overall price trends are largely impacted by individual local markets, be sure to contact Chris and the Ottawa Move Team for more accurate details on home prices across Ottawa, particularly for your neighbourhood of interest.
Real Estate Market Ideal for First-Time Buyers
While the average sale price is down slightly over July 2013, this July's sales have seen far fewer prices over the $1 million mark, which affects the overall average sale price. This year, however, home sales have primarily been in the $300,000 – $349,999 range, which suggests that first-time buyers across Ottawa are continuing to enter the market in order to take advantage of low interest rates.
For more information about buying or selling a home in Ottawa, give Chris a call or send him an e-mail. The Ottawa Move Team can help you determine the value of your property or assist you on your search to find your dream home anywhere in Ottawa, or simply offer more specific information on real estate trends in your area. Whatever your real estate needs, contact Chris and the Ottawa Move Team today!