Ottawa's  Little Italy has long been known for its many independent restaurants, grocers, and bakeries, particularly along Preston Street in the heart of the neighbourhood. Both residents and tourists regularly make Little Italy their first choice when planning their events for the evening or weekend, whether those plans involve an intimate dinner for two or an afternoon outdoors with the family. The area is within walking distance to several other popular Ottawa neighbourhoods, including the Glebe, Dow's Lake, Centretown, and Hintonburg.
Little Italy Grows into a Hot Ottawa Neighbourhood
Little Italy is quickly becoming one of the hottest destinations not just for visitors, but also for prospective homeowners, as new housing options in the area increase with projected plans for redevelopment in the area. For those who have lived in Little Italy for years, this should come as no surprise. Between the neighbourhood's excellent selection of dinner and dessert spots, quiet residential side streets, proximity to some of Ottawa's most picturesque urban parks, and convenient location just west of downtown, Little Italy has something for everyone.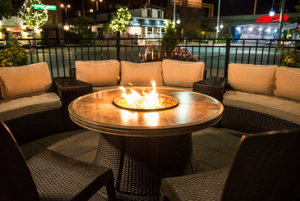 For those looking to experience a relaxing evening in one of Ottawa's most unique and celebrated neighbourhoods, Salt Dining & Lounge has recently opened its doors to Little Italy. This new Ottawa restaurant aims to provide high quality cuisine in an environment that is both elegant and comfortable, and every detail of the atmosphere is considered in an effort to meet that expectation. From imported marble tables and soft chandelier lighting indoors, to the spacious outdoor patio complete with herb and spice garden, Salt Dining & Lounge provides a pleasurable dining experience in addition to mouth-watering menu selections.
Fresh, Original Options for Ottawa Diners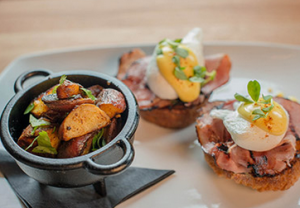 Salt's dinner menu provides a wide range of options for diners, whether you're in the mood for steak and potatoes, fried tofu, or lobster spaghetti. If you're interested in something lighter or would like to share plates with a group of friends, a variety of small plates are also available, including livers on toast, cheese or bread boards, and a selection of salads. If you're in the neighbourhood during the day, Salt also provides a lunch menu including fried chicken, salt steak frites, or the Big Salt burger. For those who are out enjoying Little Italy on the weekends, stop by Salt to enjoy a different take on brunch. The breakfast menu includes chicken n' waffles and sour cream hot cakes, which are sure to be new favourites, in addition to a classic two egg breakfast.
You don't need to be hungry to enjoy a visit to Salt Dining & Lounge. Whether you're out for a night on the town with a group of friends or you're looking to grab a couple drinks with a colleague on a patio after work, you'll find something to love on Salt's extensive drinks menu. A wide selection of red and white wines is offered by the glass or bottle, including ice wine and champagne options. Bottles or draft beers are also available, either imported or local, and the menu also offers margaritas, mojitos, and martinis, among others, for anyone who would prefer a craft cocktail to a glass of wine or beer. Be sure to stop by the Salt website for the full menus, as well as information on how to make a reservation.
Little Italy is seeing plenty of revitalization in recent months, from new restaurants like Salt Dining & Lounge to new condo buildings overlooking Dow's Lake. For more information on what's new in this growing Ottawa neighbourhood, or if you'd like to learn more about any of Ottawa's great places to live, give Chris a call or send him an e-mail. The Ottawa Move Team can provide you with helpful real estate advice, whether you're interested in finding out the value of your single family house in Westboro or you're beginning the search for your dream home in Old Ottawa East. Contact the Ottawa Move Team today for more information!
Images from Salt Dining & Lounge website.