Ottawa will be hosting the Parkinson SuperWalk this weekend, an annual fundraising event for Parkinson Society Canada and its regional partners. SuperWalk events will be taking place across the country this Saturday, September 6th, with last year's event seeing over 14,000 participants in over 95 Canadian cities and communities. Ottawa's SuperWalk has grown to become the largest SuperWalk in Canada, with more than 750 people in attendance. In recent years, the event has expanded to include the surrounding communities of Cornwall, Brockville, Embrun, and Renfrew.
Ottawa's SuperWalk the Largest in Canada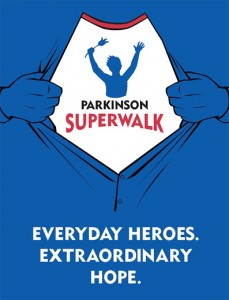 The SuperWalk is the largest fundraising event for Parkinson's Canada. Last year's event successfully raised $2.76 million, with $27 million raised since 2000 for support services, research, advocacy, and education about Parkinson Disease. The Ottawa and Eastern Ontario regions raised $190,000 at 2013's event alone. Funds raised ensure that Parkinson's Canada can deliver programs and services nationwide that will create a better future for the more than 8,000 Canadians living with Parkinson's, as well as their families. The funds also enable Parkinson's Canada to invest in research for improved treatments and developments toward a cure.
Parkinson's is a progressive brain disorder characterized by a number of motor and non-motor symptoms. Movement is normally controlled by dopamine, a chemical that carries signals between the nerves in the brain, and as cells that normally produce dopamine die, the symptoms of Parkinson's can appear. Symptoms include tremor, slowness and stiffness, impaired balance, and rigidity of muscles, although there are several non-motor symptoms that can appear as well, including fatigue, stooped posture, sleep disturbances, and more. There is no cure for Parkinson's. For more information on Parkinson's disease, visit www.parkinson.ca.
An Ottawa Community Event for a Great Cause
The annual Parkinson SuperWalk is a community event that attracts people of all ages. This year's Ottawa event will be held at Lakeside Gardens/Britannia Beach, 102 Greenview Avenue, with registration taking place at 9:00 a.m. and the walk beginning at 10:30 a.m. There are both 1k and 3k walks. Please visit the Parkinson SuperWalk Ottawa website for specific details about the Ottawa fundraising event. The majority of those walking are family and friends who walk in honour or in memory of a loved one, but anyone who is looking to support research and funding for Parkinson's can register to walk.
If you live in Ottawa or a neighbouring Eastern Ontario community, and you're interested in volunteering for the event, please call 613-722-9238. The SuperWalk is happy to have more volunteers, and is always looking for more participants for the event! If you'd like to register to take part in the Ottawa SuperWalk, you can register online at www.parkinsonsuperwalk.ca.
Be sure to contact Chris and the Ottawa Move Team for details about upcoming events in and around Ottawa, or for helpful information about specific Ottawa neighbourhoods.