Summer is now drawing to a close in the nation's capital, and as the kids head back to school and the nights grow shorter and cooler, home sales across Ottawa have remained steady. According to the latest statistics released by the Ottawa Real Estate Board, 1,203 properties were sold across the city in August of 2014, a decrease of 1.1 percent over the same month last year. The five-year average for home sales in Ottawa is 1,199.
Residential Sales Increase Despite Cooler Weather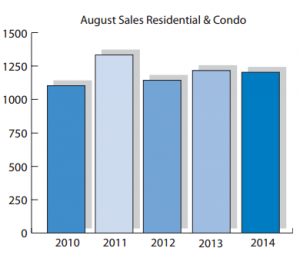 As fall routines tend to pick up speed moving into September, the real estate market tends to slow down in response. Although home sales have decreased slightly, especially when compared to the record sales reported in July, the sales in August were slightly above the five-year average for that month and are on par with year-to-date sales when compared to 2013. This is indicative of an overall steady real estate market across Ottawa, whether you're thinking of selling your Centretown condo or planning to buy a single family home in Westboro.
Of the 1,203 properties sold across Ottawa in August, 219 were in the condominium property class and 984 were in the residential property class. The condominium class includes any property registered as a condo, regardless of the style of property, and includes co-operatives, life leases, and timeshares. Home sales for properties sold in the residential property class, which includes any other residential property in Ottawa, reported an increase of four percent year-over-year, demonstrating strength in the real estate market despite the move towards cooler weather.
Average Sale Price Increases 3.4% Across Ottawa
The average sale price for Ottawa properties has increased as well, for both the residential and condominium property classes. For both property classes, the average sale price was $360,214, an increase of 3.4 percent when compared to August of last year. The average sale price for a condo in Ottawa increased 2.7 percent year-over-year to $263,996, while the average price for a residential property increased 1.9 percent in August, reaching $381,628. The $300,000 to $399,999 price range continues to have the highest concentration of properties sold across the city, a strong sign that there are plenty of first-time buyers entering the Ottawa real estate market at this time.
Visit the OREB website to read the full report. Real estate market trends vary depending on your exact location in Ottawa, so be sure to give Chris a call or send him an e-mail for specific advice tailored to your real estate needs! Chris is happy to provide you more information on the market in any of Ottawa's great neighbourhoods. Whether you're interested in finding out how much your bungalow in New Edinburgh is worth or you'd like to begin looking for an investment property in Sandy Hill, now is the perfect time to get in touch! Contact Chris and the Ottawa Move Team today for more information.